NCBI Discovery Workshops @ UC Davis Library
Posted by Alan Carr on January 24th, 2014 Posted in: E-Science, NLM Products, Training

---
by Amy Studer, RN, MSN, MSLIS, Health & Life Sciences Librarian
Carlson Health Sciences Library
University of California, Davis
Davis, CA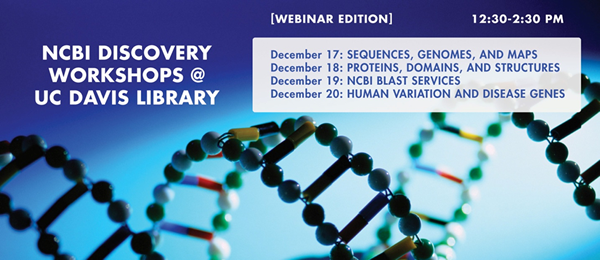 In December 2013, the UC Davis Library was pleased to host a series of four NCBI Discovery Workshops, featuring Peter Cooper, Ph.D., from the National Center for Biotechnology Information (NCBI) at the National Library of Medicine. Due to travel restrictions imposed as a result of the U.S. Government sequester, instructors from NCBI were unable to present in person, so the workshops were held via Webinar.
Each workshop emphasized a different set of NCBI resources, with Dr. Cooper providing specific examples to highlight important features of the databases and tools and to demonstrate how to accomplish common tasks.
Sequences, Genomes, and Maps: The focus was accessing sequences for a particular organism in Gene, Nucleotide, and related databases, with an introduction to RefSeq records. Approaches to identifying homologous sequences in other species were also covered. The course introduced search strategies for Entrez databases, including Entrez Global Query, MeSH, and Taxonomy controlled vocabularies; filters, facets and limits; and advanced search builder. Highlighted tools included the Graphical Sequence Viewer and NCBI Map Viewer.
Proteins, Domains, and Structures: The focus was finding protein sequences associated with a specific gene and related protein structures in the Protein, Structure, and Conserved Domain Databases. Highlighted tools included the Vector Alignment Search Tool (VAST) and Cn3D, a structure viewer.
NCBI BLAST Services: This workshop focused on the Basic Local Alignment Search Tool (BLAST), which enables researchers to enter various types of sequence data (e.g. protein, nucleotide) and search the NCBI databases for similar (related) sequences. Some of the uses for the BLAST search include exploring function, homology, organism of origin, or genomic context for experimentally determined sequence data.
Human Variation and Disease Genes: This workshop focused on accessing information about genetic variation and disease by navigating laterally across biomedical literature resources, such as PubMed and Online Mendelian Inheritance in Man (OMIM), to NCBI biomolecular sequence databases (e.g. Gene, RefSeq, dbSNP). Specialized medical genetics resources, including dbGaP, ClinVar and Genetic Testing Registry were also covered.
There were over 160 registrants for the NCBI Discovery Workshops @ UC Davis Library. A majority were members of the UC Davis community of faculty, researchers, graduate, and undergraduate students. From outside the UC Davis community, registrants were from Northern and Southern California, Arizona, and Hawaii. An amazing breadth of disciplines was represented, for example plant sciences, computer science, the genome center, molecular biology, food safety, veterinary medicine, animal science, human medicine, immunology, epidemiology, and health informatics. Librarians were also well represented.
From this librarian's perspective, hosting the NCBI Discovery Workshops provided a valuable training opportunity to the UC Davis community and larger region. In addition, we have a better sense of the number and variety of people on the UC Davis campus who are interested in the NCBI resources and tools, which will inform our library outreach activities in the future!
ABOUT Alan Carr
Alan Carr is the Associate Director, National Network of Libraries of Medicine, Pacific Southwest Region, based at UCLA.
Email author View all posts by Alan Carr