Announcing a New Book for Libraries about the Affordable Care Act!
Posted by Kelli Ham on January 30th, 2015 Posted in: Affordable Care Act, Consumer Health

---
We recently received a copy of the new book by Francisca Goldsmith titled Libraries and the Affordable Care Act: Helping the Community Understand Health-Care Options. Just published by ALA Editions, and available for purchase through the ALA Store, the book is a concise handbook that helps library staff make sense of the complicated new reality of health care reform. The book consists of about 100 pages, organized into nine chapters and three appendices. Each chapter includes a short "Questions and Tasks" section, which provides a short list of questions or statements intended to point out things the library can do or should consider doing to provide better services to users.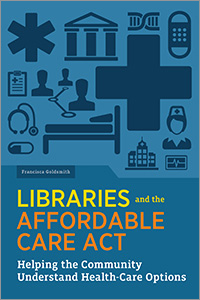 For anyone needing an overview of the ACA and health insurance exchanges, the first two chapters break these topics down into understandable language. The following chapters each focus on an area that will help libraries provide better information and services related to health information and insurance. As a big proponent of understanding the needs of the community, I was happy to see this as an early focus in the book. One chapter addresses the specific aspects of the ACA law that will roll out through the year 2020 and how libraries can plan ahead and employ tactics based on the year-by-year changes. The remaining chapters address other aspects of consumer health information services, including ethics, the health reference interview, and health literacy. The book concludes with a thought-provoking chapter on programming, including a great resource list with examples of successful library programs and collaborations around the country.
Even though the second enrollment period of the ACA has nearly concluded, librarians shouldn't let the ACA fall off their radar. Even though they may not see as much activity until next fall, this book provides a good reference in general, and it will serve librarians well as they plan for services and programming for the next enrollment period.
NN/LM PSR has an ongoing partnership with Infopeople, and I've worked with Francisca on several projects over the past few years. She is a well-known instructor with Infopeople, the California-based library training organization. Francisca is particularly knowledgeable about library services in California and Covered California in addition to the Affordable Care Act in general. She maintains a current resource page about the ACA and authors regular blog postings with essential information for library staff. Francisca is also the course creator and instructor of the self-paced online course Affordable Care Act @ Your California Public Library.
ABOUT Kelli Ham
Kelli Ham is the Consumer Health Librarian at the National Network of Libraries of Medicine in the Pacific Southwest Region, based at the UCLA Biomedical Library. When she's not extolling the virtues of MedlinePlus, Kelli can be found hiking local trails or working in her organic garden and native landscape.
Email author View all posts by Kelli Ham