New Community Outreach Coordinator: Lori Tagawa!
Posted by Marco Tamase on August 31st, 2010 Posted in: General

---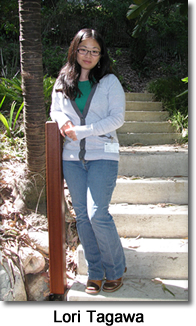 Hihi! During the last few weeks, you might have come across my name on e-mails or around the website. I'm going to take advantage of Latitudes to properly introduce myself; My name is Lori Tagawa and I am the new Community Outreach Coordinator for the NN/LM PSR RML.
During the last two years, I worked closely with RML as an administrative assistant for the UCLA Biomedical Library. Earlier this month, with the support of Judy Consales and Julie Kwan, I was able to obtain a temporary appointment with RML as the Community Outreach Coordinator. My appointment will extend until the end of our current five-year contract, and if I'm lucky, will dip into the next.
In this position, I will be managing subcontracts with community-based organizations to improve access to health information resources. This will include assisting our subcontractors working with various communities to help them provide access to NLM and NN/LM resources and services. I will be communicating with our subcontractors to coordinate quarterly reports, as well as answering any subcontract-related questions.
I am also currently developing culturally and linguistically appropriate instructional and informational materials to support promotion and training efforts. I graduated from UCLA with a degree in anthropology, with a focus on sociocultural studies, and I hope to use my educational (as well as personal) background to help strengthen our efforts, especially within special population communities.
I would love to hear feedback from our PSR members regarding any cultural or linguistic areas we could improve upon in our promotional material and/or our training courses. Any personal anecdotes regarding these items are useful too. Please feel free to send me any comments at ltagawa@library.ucla.edu. If you have any questions regarding subcontracts, please contact me at the same e-mail address.
Thanks for reading and I hope to meet all of you in the near future!
ABOUT Marco Tamase
Marco Tamase is the Member Services Coordinator for the Pacific Southwest Region of the Network of the National Library of Medicine located at UCLA.
Email author View all posts by Marco Tamase