New NN/LM PSR Resource Library Director Profile: Kristen L. Anderson, University of Hawaii at Manoa
Posted by Alan Carr on December 17th, 2015 Posted in: General

---
by Kristen (Kris) L. Anderson, MLIS, MPH
Director, Health Sciences Library
John A Burns School of Medicine
University of Hawaii at Manoa
Honolulu, HI

Aloha! I'm the new Director of the Health Sciences Library at the University of Hawaii's John A. Burns School of Medicine (JABSOM). After twenty-four years at Hamilton Library on the main campus of the University of Hawaii at Manoa (UHM), I started at JABSOM in January 2015 following the retirement of Virginia "Ginny" Tanji, who many of you know. At Manoa, I started as a Science Reference Librarian and added on experience over the years serving as the Electronic Resource Librarian, Collection Development Officer, Head of Technical Services, and Interim Head of Sinclair Library, with many of these happening simultaneously! What a ride! For sixteen years I was the principle investigator (PI) on a grant to provide research and document delivery service to aquaculture researchers in the US affiliated Pacific Islands. I have always been active in professional organizations, having served on the boards of the local chapter of SLA, the Hawaii Library Association, and the Hawaii Library Consortium. Through my work with aquaculture I got involved in the Pacific Islands Association of Libraries and Archives (PIALA), as well as the International Association of Marine and Aquatic Science Libraries and Information Centers (IAMSLIC) of which I am currently the President.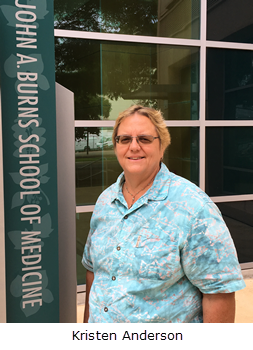 I'm excited to be at the JABSOM Library. We serve the faculty, staff, students and researchers of JABSOM, the Cancer Research Center, School of Nursing, the departments of Public Health, Communication Sciences and Disorders, and Cell and Molecular Biology. As the school does not have it's own hospital, we support residents and clinical staff on most of the islands and participate in the Hawaii Medical Library Consortium. I'm looking forward to expanding our instructional offerings beyond faculty requests to offer refreshers, research support and data management to all our clients. Our staff is small, with three librarians and three support staff, but I must say they are all smart, efficient and hardworking!
Maika'i Loa: Attain Lasting Optimal Health for All (ALOHA). This is the vision of the John A. Burns School of Medicine. Some unique features of the School's M.D. program include its Problem-Based Learning curriculum and community-based medicine program. JABSOM is among the most culturally and ethnically diverse medical schools in the country, and its student body mirrors the rich diversity of the state's population. The School has always and will continue to play a historical role in expanding opportunities for women, minorities, Native Hawaiian and Pacific Islanders, and the socio-economically disadvantaged. Advanced medical and biomedical research at JABSOM has received international recognition for pioneering work in human fertility, human heredity, comparative genetics, evolution theory, infectious disease, pharmacology, and cross cultural psychiatry, among other fields. Its work on the better understanding of Hansen's Disease (leprosy) is part of Hawaiʻi's legacy to the world. More recently, it has made contributions in AIDS, in Kawasaki's Disease, and the epidemiology of heart disease.
ABOUT Alan Carr
Alan Carr is the Associate Director, National Network of Libraries of Medicine, Pacific Southwest Region, based at UCLA.
Email author View all posts by Alan Carr