NLM Director Donald Lindberg Retirement Announcement
Posted by Alan Carr on November 6th, 2014 Posted in: General

---
NIH Director Francis Collins has announced the retirement of Donald Lindberg, M.D., who has served as the director of the National Library of Medicine for over 30 years, at the end of March, 2015. During Dr. Lindberg's tenure at NLM, numerous programs have been developed that fundamentally changed the way biomedical information is collected, shared, and analyzed. In his statement, Dr. Collins noted that Dr. Lindberg is one of the longest-serving leaders at NIH and a pioneer in "applying computer and communications technology to biomedical research, health care, and the delivery of health information wherever it is needed."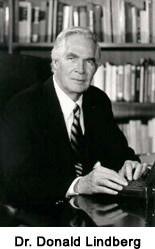 Dr. Lindberg began his career as a pathologist. He started applying computer technology to health care in the 1960s while at the University of Missouri. He was a professor of pathology and director of the Information Science Group at the University of Missouri, Columbia, when he was tapped to become NLM director in 1984. Dr. Lindberg introduced numerous NLM landmark projects, including free Internet access to MEDLINE via PubMed, MedlinePlus for the general public, the Visible Human Project, ClinicalTrials.gov, the Unified Medical Language System, and more. He also created the National Center for Biomedical Information (NCBI), which has been a focal point for "Big Data" in biomedicine for decades, providing rapid access to the data generated by the Human Genome Project and now to massive amounts of genetic sequence data generated from evolving high-throughput sequencing technologies. Dr. Lindberg became an expert and groundbreaking innovator in the world of information technology, artificial intelligence, computer-aided medical diagnosis, and electronic health records, and he served as the first President of the American Medical Informatics Association. In 1992, Dr. Lindberg became the founding Director of the National Coordination Office for High Performance Computing and Communications in the President's Office of Science and Technology Policy, and in 1996 he was named by the HHS Secretary to be the U.S. National Coordinator for the G-7 Global Healthcare Applications Project.
Another key focus for Dr. Lindberg has been the delivery of high quality health information to everyone, including health professionals and the public in disadvantaged rural areas and inner cities. He established NLM's important outreach initiatives, expanded the scope of the National Network of Libraries of Medicine (NN/LM), and entered into longstanding and successful partnerships with minority serving institutions, tribal and community-based organizations, and the public health community. His years at the Library included two major milestones, NLM's 150th and 175th anniversaries. More recently, he presided over NLM's Voyaging to the Future symposium, which looked back at the library's last 30 years and looked ahead as it begins its next long-range planning effort.
We congratulate Dr. Lindberg on his retirement, and wish him the best in his future endeavors!
ABOUT Alan Carr
Alan Carr is the Associate Director, National Network of Libraries of Medicine, Pacific Southwest Region, based at UCLA.
Email author View all posts by Alan Carr