NLM Traveling Exhibit: Pick Your Poison: Intoxicating Pleasures and Medical Prescriptions
Posted by Alan Carr on November 30th, 2015 Posted in: Advocacy, Consumer Health, NLM Products, Outreach, Public Health

---
by Miranda Lam, MLIS, Medical Librarian and
Darlene Parker-Kelly, MSLS, Director
Health Sciences Library
Charles R. Drew University of Medicine and Science
Los Angeles, CA
In celebration of the 2015 National Medical Librarians Month, Charles R. Drew University (CDU) Health Sciences Library proudly displayed the National Library of Medicine's Pick Your Poison traveling exhibit. This particular exhibit is CDU Health Sciences Library's fifth such exhibition and it is an opportunity to cultivate conversations with students, faculty, staff and the community. From the exhibit, one learns about the evolution of perceptions of select mind altering drugs in American society: tobacco, alcohol, opium, cocaine, and marijuana.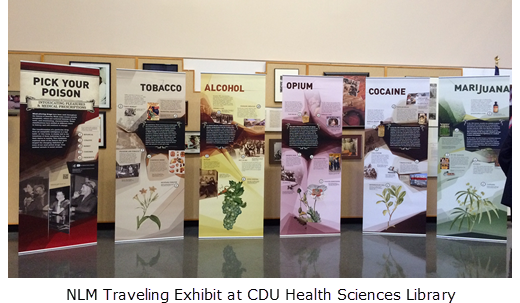 The exhibition presents viewers with historical snippets on the changing status of these drugs in society. From their very first uses by humans, these five drugs were once praised for their medicinal uses. However, upon recognizing the detrimental effects (most specifically the strong tendency toward addiction) of these drugs to individuals and their communities, society has taken steps to ban, prohibit, or control their usage. A case in point occurred in 1885, when cocaine was advertised for its use as an effective treatment for toothache. In the early 1900s, though, cocaine was seen as a malicious creation and fear of it was widespread. Similarly, marijuana was also considered a great medicinal resource. Alcohol was once completely prohibited (i.e. the Prohibition era), but now it is certainly legal for consumption. It is clear that the status of some of these drugs may still change in the future.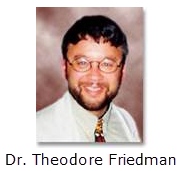 A perfect complement to the Pick Your Poison exhibit was a colloquium on the topic of nicotine, which was presented by CDU's own renowned researcher, Dr. Theodore Friedman. Dr. Friedman has written extensively on the subject of nicotine and the Library provided an additional exhibit, highlighting some of his more recent research. The lecture was held during the lunch hour and the audience included students, researchers, administrators and staff. One of several comments suggested more collaboration between the library and researchers to host similar events. The session was recorded for future viewing.
The Pick Your Poison exhibition was a successful event to celebrate National Medical Librarians Month. The display was eye-catching and many learned a fact or two about these five mind altering drugs. Check out the website for additional educational resources. We look forward to hosting the next traveling exhibit. It is a great approach to building partnerships with others in your institution or community!
ABOUT Alan Carr
Alan Carr is the Associate Director, National Network of Libraries of Medicine, Pacific Southwest Region, based at UCLA.
Email author View all posts by Alan Carr