Two New NLM Traveling Exhibitions to Be Launched in Fall 2016!
Posted by Alan Carr on September 13th, 2016 Posted in: Advocacy, Consumer Health, General, K-12 Resources, NLM Products, Outreach

---
The National Library of Medicine's Exhibition Program partners with hundreds of libraries and cultural institutions across the country and around the world in an effort to provide meaningful historical and health related content to audiences in communities near you! For example, in October 2015, the National Library of Medicine made available a new traveling banner exhibition, Confronting Violence: Improving Women's Lives. The exhibition tells the story of a vanguard of nurse activists who worked to change the way the medical profession responded to patients who had been battered. Three copies of the traveling banner exhibition are traveling around the country through 2019.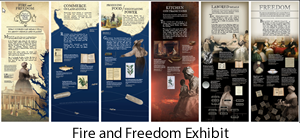 During fall 2016, the Exhibition Program will launch two new NLM traveling banner exhibitions; including Fire and Freedom: Food and Enslavement in Early America, which explores how, through the labor of slaves, like those at George Washington's Mount Vernon, we can learn about the ways that meals transcend taste and sustenance. Physician Assistants: Collaboration and Care tells the story about how physician assistants collaborate with other medical professionals and patients to provide quality medical care. To find out when these two exhibitions will be available for booking, follow the NLM Exhibition Program's Facebook page.
The scope of the National Library of Medicine efforts to provide meaningful historical and health related content to new audiences can be explored through some key statistics. Between October 2015 and September 2016, NLM traveling banner exhibitions will be catalysts for 231 exhibition openings in 161 institutions in 144 towns and cities in 42 states and 2 provinces in Canada! Between October 2015 and June 2016, surveys from 62% of institutions that hosted NLM traveling banner exhibitions between September 2015 and June 2016 reported 544,583 viewers of the exhibitions. As of July 2016, the portfolio of traveling banner exhibitions was booked at 75% capacity with the longest-running itinerary extended through 2021.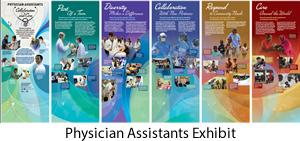 The list of partner institutions that have requested a National Library of Medicine traveling banner exhibition includes 341 colleges and universities, 185 public libraries, 58 professional organizations, 49 cultural institutions, and 9 high schools for a total of 642 organizations. NLM traveling exhibitions are supported by online adaptations that feature educational resources for students and educators in K-12 schools and colleges and universities. Websites for some exhibitions include selections of related resources at NLM. More recent online projects include curated collections of digitized assets from the History of Medicine Division collections and NLM.
ABOUT Alan Carr
Alan Carr is the Associate Director, National Network of Libraries of Medicine, Pacific Southwest Region, based at UCLA.
Email author View all posts by Alan Carr