NN/LM PSR Welcomes 2015 Fall Quarter Intern: Jonathan Ballak
Posted by Jonathan Ballak on October 29th, 2015 Posted in: General, Technology, Training

---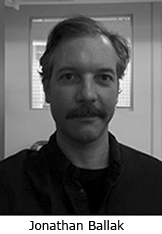 My name is Jonathan Ballak and I am extremely pleased to be currently interning at the National Network of Libraries of Medicine, Pacific Southwest Region, for the fall quarter of 2015. At present I am a second-year student in UCLA's Masters in Library and Information Studies (MLIS) program because I believe that libraries are an integral part of a healthy and progressive society. In addition, I am also interested in how librarians and information professionals utilize new information gathering technologies as they relate to health and medical services. My specialization in the MLIS program is Informatics.
My internship projects will include needs assessments related to the areas of data management training and website user experience, in order to determine how best to meet user needs of regional Network members. During the course of these projects, I hope to meet as many UCLA library and information science professionals as possible in order to gather intelligent advice on data management and website design. In addition to these projects I also hope to glean as much information as possible about how the NN/LM PSR communicates and interoperates with its Network members and other NN/LM regional offices.
I earned my BFA in Visual Design from the University of Oregon, and it is this previous training that I hope to draw upon in my appraisal of the NN/LM PSR website design. Combining this facet of design knowledge with Information Architecture and user experience design concepts from the MLIS program will provide a base of information which will impart knowledge to the project from multiple viewpoints. In the upcoming years I look forward to pursuing my interests in health and clinical informatics. I am grateful for this internship opportunity and look forward to working on the upcoming projects at the NN/LM PSR, and learning as much as possible from the staff and other library professionals that I meet during the quarter!
ABOUT Jonathan Ballak
Email author View all posts by Jonathan Ballak