Reflecting on the Essence of a Promotor: 10th Annual Promotoras and Community Health Workers Conference
Posted by Marco Tamase on December 20th, 2012 Posted in: Consumer Health, MedlinePlus, NLM Products, Outreach

---
by Yamila El-Khayat, MALS
Outreach Services Librarian, Arizona Health Sciences Library
University of Arizona
Tucson, AZ
Kay Deeney and I recently had the opportunity to attend the 10th Annual Promotoras and Community Health Workers Conference, held December 7-8, 2012, in Los Angeles. This annual meeting is sponsored by the National Network to Eliminate Disparities in Behavioral Health (NNED). The "Mercadito" (Market Place) area was full of vendors, some with beautiful handmade merchandise, and others with information about free programs available for the community. Our exhibit table provided information on MedlinePlus both in Spanish and English, along with pens and MedlinePlus Magazines. Kay and I provided staffing for the event. Many people stopped by our display to talk to us about the information that was provided by MedlinePlus. Some people were familiar with MedlinePlus, and they complimented the site and wanted to learn more about it. For others, it was a new resource.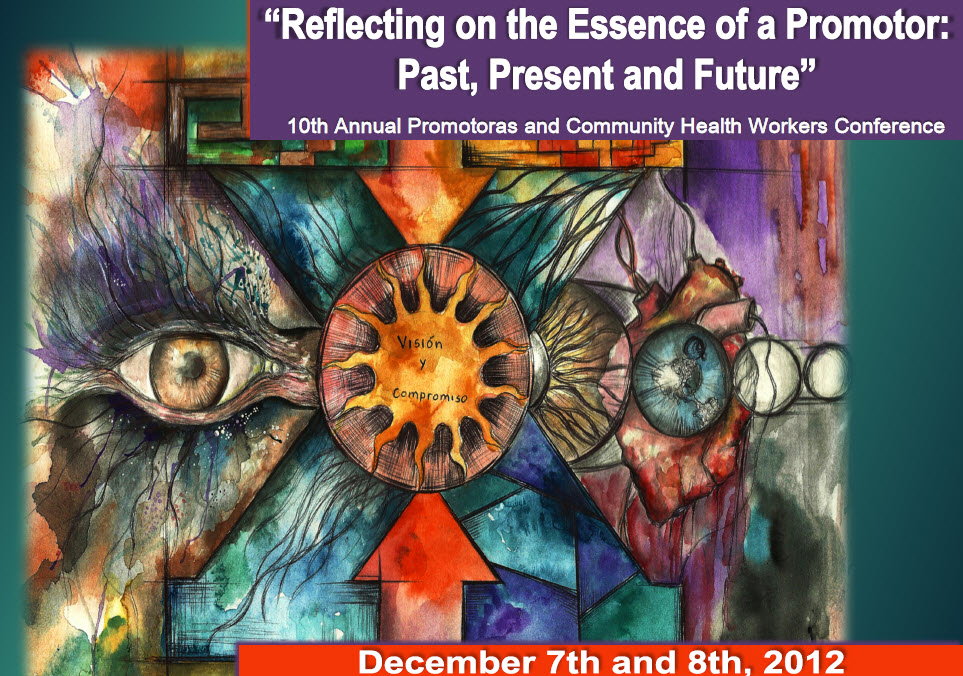 The conference was opened by a woman who writes the words to her own songs and sings them beautifully; her name is Rosa Martha Zarate. She is a civil rights activist and does a lot of work researching "Los Braceros," doing interviews and collecting photographs from the Great Depression of the 1930s. We then heard a talk by the keynote speaker, Henry Cisneros, Executive President of City View, and the first Hispanic Mayor of San Antonio, TX. His talk was very inspirational and really showed the power that minorities have to succeed, and their important role in this country. The conference then proceeded with a variety of sessions in several content tracks. Most of the sessions were given in Spanish. Translation headphones for the keynote talks and selected breakout sessions were available. Two women tag-teamed translating the information.
Sessions included topics about Parkinson's disease, Alzheimers disease, nutrition, cancer, stress, gender and sexuality, families, culture, and even dance and song therapy! There was quite a diverse range of topics that were covered throughout the conference. One session that caught my eye in particular, was a session by Jose Luis Orozco, a bilingual children's author, educator and recording artist. He had a true talent to grasp the attention of the audience, both adults and children. His songs revolve around several themes, including numbers, days of the week, colors, and growing up in the "barrio." I had the opportunity to talk to him while at this conference, and he revealed to me that he is currently working on a book and a song about how to teach children the importance of health in their lives.
Kay attended a session on basic concepts of research studies. The group pretended to participate in a study of Oreo cookies, carrots and cavities. Other sessions were on using Bingo to teach information about leukemias, and heart attack risk factors in women.
This conference provided us the opportunity to network and share our resources with Promotoras and Community Health Workers, which provide an important bridge to communities of color!
ABOUT Marco Tamase
Marco Tamase is the Member Services Coordinator for the Pacific Southwest Region of the Network of the National Library of Medicine located at UCLA.
Email author View all posts by Marco Tamase