Reflecting on the Health Promoter of the New Millennium: 12th Annual Promotoras and Community Health Workers Conference
Posted by Alan Carr on December 17th, 2014 Posted in: Advocacy, Consumer Health, MedlinePlus, Outreach, Public Health

---
by Yamila El-Khayat, MALS, Outreach Services Librarian
Arizona Health Sciences Library
University of Arizona
Tucson, AZ
I recently attended the 12th Annual Promotoras and Community Health Workers Conference, whose theme this year was The Essence of the Promoter in the New Millennium. The conference took place December 4-6, 2014, in Los Angeles. The conference is put together by an organization called "Vision Y Compromiso," meaning Vision and Compromise. This organization was established 14 years ago, with a goal to provide training, leadership, and ongoing advocacy to support promotores and community health workers in California. Throughout the years, this conference has become so popular that it now attracts attendees from all over the world. The event is held annually and focuses on self-empowering education programs, with health as a main subject. We have seen this event grow in popularity each time we attend.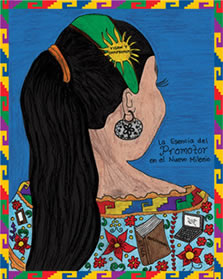 A key feature of the meeting was a "Mercadito" area, with vendor tables set up to provide participants with information to help them in the work they do, along with beautifully handmade merchandise that is sold there. In order to sell merchandise, it must be handmade and help a good cause. An example of this is one vendor in particular who attends every year and brings merchandise from the native tribes in Mexico to sell and help them financially. I have represented the National Library of Medicine at an exhibit booth for the past several years, providing participants with free resources of health information, something that the attendees truly value.
The keynote address this year was given by Nely Galan, a woman who is a first generation immigrant and a true model for the Latino Community, as she was the first Latina president of the U.S. television network, Telemundo. She has been given the nickname of "Tropical Tycoon" by the New York Times. Galan is the founder of "The Adelante Movement," a company put together to help empower Latina women interested in financial independence. Her speech at this conference really gave meaning to the word "empowerment" for this particular community. You could see that many attendees were inspired by hearing her talk and were strengthened with a "Si Se Puede" (Yes you can)!
The conference then offered several sessions related to health that participants could attend. These varied from topics about pregnancy, cancer, health studies, dance therapy and even yogatherapy. A session that I attended was called Smile Therapy: Let's Laugh So We Can Then Smile. The Essence of the Promoter Is His/Her Smile. I really enjoyed and learned a lot from the session. It consisted of learning about holistic approaches to mental health and positive attitudes for relaxation, peace, and joy.
The conference as a whole was truly empowering and informative. Having the opportunity to interact with this particular audience was a special experience. Many attendees demonstrated appreciation for the information provided by the National Library of Medicine, and expressed their thanks by telling us about opportunities when they used MedlinePlus with their communities!
ABOUT Alan Carr
Alan Carr is the Associate Director, National Network of Libraries of Medicine, Pacific Southwest Region, based at UCLA.
Email author View all posts by Alan Carr