Reflections on the 2013 Binational Promotores Conference
Posted by Alan Carr on August 9th, 2013 Posted in: Advocacy, Affordable Care Act, Consumer Health, Outreach, Public Health

---
by Yamila El-Khayat, Outreach Services Librarian
Arizona Health Sciences Library
University of Arizona
Tucson, AZ
I had the opportunity to attend the Binational Promotores Conference 2013, which was held at the California Endowment in Oakland, CA, on August 5, 2013. This insightful conference, conducted entirely in Spanish, attracted more than 220 individuals, including promotores from many parts of the U.S., promotores from Zacatecas, Mexico, and representatives from many Mexican consulates. The event was sponsored by the School of Public Health at the University of California, Berkeley, Health Initiative of the Americas.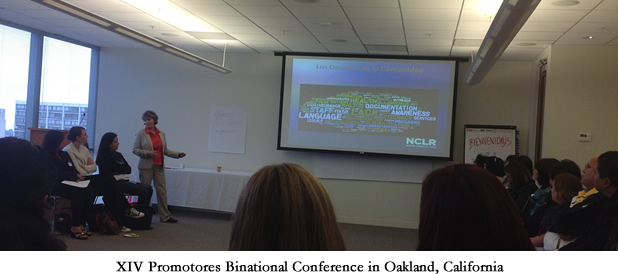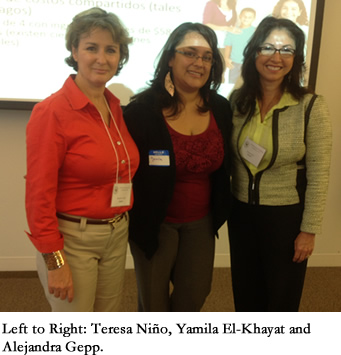 The event began with a talk from Dr. Marisela Quesada, who represented the Mexican Institute of Social Security Clinics and Hospitals. She was an impressive speaker, and really gave us a feel for how the promotores model works in Mexico. In Mexico, they are known as "Health Volunteers" rather than "Promotores." These promotores are not paid for their efforts and are chosen from the community to serve the community. The Mexican Institute of Social Security Clinics and Hospitals currently has 310,349 "Health Volunteers" working in rural communities and marginal urban communities. These volunteers are trained with basic first aid skills and deal with health problems of low complexities. They do what we would call "triage" work. If the health problem is serious, they will send the patient to the clinic or hospital that is nearby, usually ranging from 1 to 2 hours away. Several are also trained as midwives and can assist during childbirth, although many do send pregnant women to the clinics and hospitals because of possible complications. Each "Health Volunteer" will have the charge of caring for approximately ten families; they visit families at their homes and talk to them about different health issues that may be affecting the family. This topic was impressive to me because I have done work with promotores for many years in the U.S./Mexico border area, and didn't realize how different the promotores' role was in Mexico.
There were several speakers at this event and all of them spoke to us about different topics. Some presented very specific projects that were ongoing to help communities stay healthy, and others spoke about the impact the Affordable Care Act would have on communities in the U. S. This was a very important topic that many participants had questions about. The promotores that were present were interested in hearing from both Teresa Niño, from the Office of Public Engagement, and also Alejandra Gepp, from the National Council of La Raza, how this would play a role in their jobs. Both of these speakers were wonderful; Teresa Niño was very professional in presenting what the Affordable Care Act would do for communities, and Alejandra Gepp was very good at bringing it to a community level and helping promotores understand the key role that they would play in helping communities better understand the Affordable Care Act.
Overall, this conference was an ideal opportunity to learn more about the Affordable Care Act itself, and also the roles that promotores will play. It also gave me so much insight on the different responsibilities that promotores have on the other side of the border. I am extremely thankful for the opportunity to have attended this conference because I feel like I came back with a world of knowledge that can really help in future projects with promotores!
Note: You may need to download Adobe Reader to your computer in order to access the PDF format of the 2013 Binational Promotores Conference document in this article.
ABOUT Alan Carr
Alan Carr is the Associate Director, National Network of Libraries of Medicine, Pacific Southwest Region, based at UCLA.
Email author View all posts by Alan Carr