Reflections on the RSNA 2012 Annual Meeting in Chicago
Posted by Marco Tamase on December 13th, 2012 Posted in: Outreach, Training

---
by Yamila El-Khayat, MALS
Outreach Services Librarian, Arizona Health Sciences Library
University of Arizona
Tucson, AZ
This year I had the pleasure of attending the 98th Scientific Assembly and Annual Meeting of the Radiological Society of North America (RSNA), November 25-30, to represent the National Library of Medicine. This meeting is an international conference, which attracts radiologists, medical physicists, and other medical professionals. The conference hosts one of the largest medical meetings in the world, attracting more than 60,000 participants annually, and is held at the McCormick Place convention center in Chicago. It offers educational resources, both in exhibits, and continuing education sessions that offer credits towards the physicians' maintenance of certification.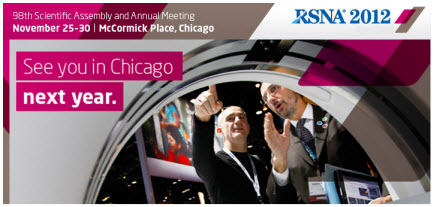 The National Library of Medicine is invited yearly to host a booth at this conference, and also to teach a few information refresher courses for attendees. Class participants are introduced to searching skills and ways to improve search results in PubMed. Other sessions provide advanced search training, where participants are exposed to more in-depth material about My NCBI and how to use the its various features. This year for the first time a class on all resources relating to imaging was offered, at the request of RSNA. This class was taught by Holly Ann Burt, Outreach & Exhibits Coordinator, NN/LM Greater Midwest Region. All other classes were taught by different librarians, from many parts of the U.S. In addition to myself, librarians teaching classes at the conference included Susan Anderson, Barbara Bibel, Diane Hummel, Janna Lawrence, and Jenny Wang. Classes averaged about 60 participants. One class was offered each day, with the exception of two days in which two classes were offered, providing a total of eight classes during the weeklong conference. All classes offered AMA Physicians' Recognition Award (PRA) Category 1 CME credit. I co-taught the session PubMed/MEDLINE Basics: Finding What You Need in Radiology. The experience gave me a new love for teaching!
At the exhibit booth, several computer stations were set up to allow one-on-one interactions with conference attendees. Participants with questions came over to visit and learn more about the resources that the National Library of Medicine offers. I spoke with participants from all over the world, including people from Brazil, Mexico, Spain, Colombia, Chile, Argentina, and many other Spanish and Portuguese speaking countries. An average of about 20-30 people visited the booth each day. Unfortunately, the booth was not located in a high-traffic area, so the number of visitors was lower than in past years. Next year NLM expects to have a better location!
ABOUT Marco Tamase
Marco Tamase is the Member Services Coordinator for the Pacific Southwest Region of the Network of the National Library of Medicine located at UCLA.
Email author View all posts by Marco Tamase