Report on the 2016 Internet Librarian Conference in Monterey, CA
Posted by Alan Carr on November 21st, 2016 Posted in: Advocacy, Funding, Technology

---
by Judith Kammerer, MA, MLIS, AHIP
Manager, Owen Medical Library
Saint Agnes Medical Center
Fresno, CA
Internet Librarian 2016 (IL2016), produced by Information Today, Inc., was held at the Monterey Marriott on October 17-19, 2016. It celebrated 20 years as a major conference supporting the efforts of librarians and information managers to keep updated on technology and innovative approaches to their jobs. Attendance has fluctuated over the years, with this year's 750-attendee count being the lowest since I attended my first IL conference 10 years ago.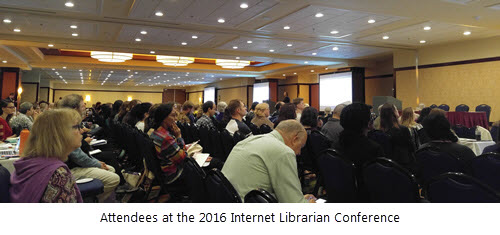 My attendance this year was made possible by a Professional Development Award from the Pacific Southwest Region of the National Network of Libraries of Medicine (NN/LM PSR). This award allows librarians to increase their knowledge of health information resources, access and delivery skills. My two major aims in attending IL2016 were to gain skills in project management and to learn which technologies should be implemented in my hospital in 2017 to promote evidence-based health care. Fifteen pre-conference workshops were offered on Sunday, October 16. I attended a three-hour workshop on Advanced Project Management: Practitioner Pointers & Insights. Rebecca Jones is a dynamic presenter, who conducted an interactive session that highlighted the business model of project management. A few of the points that resonated with me include:
Start with a charter that describes the project and allows for changes.
Seek engagement from everyone involved.
Use the Project Charter Template to detail 15 components (scope, project milestones, quality management, risks, list stakeholders, project team roles & responsibilities, etc.).
Keynote speakers during the three-day conference spoke about cognitive empathy (deep understanding), sharing stories, cyber bullying and our relationship with data. The heart of the conference centered around 45-minute sessions that were grouped into tracks (discovery, navigation & search, web presence, community engagement, open access/open education, content management, user experience, enterprise: roles, tools & services, cybersecurity & copyright, innovation & transformation, tech tools & practices, management tips & tools, future focused impact).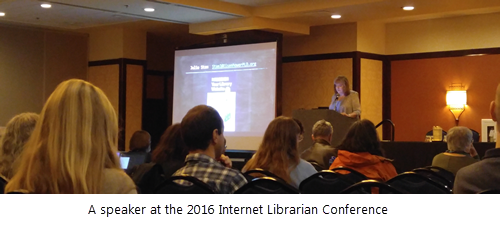 A list of all conference handouts and slides is available. Following are a few highlights I recorded at several sessions I attended:
In "Writing effectively for web & mobile," remember that responsive web design (RWD) is a design solution, but not a content solution. You'll need to chunk the page, prioritizing the content and focus, moving secondary content off, keeping only the most newsworthy information and important details. It's all about the user and their purpose.
Jason Griffey's session, Open Access Initiatives, covered a relatively new concept called blockchain, a technology for a new generation of transactional applications that establishes trust, accountability and transparency while streamlining business processes. It goes beyond bitcoin, allowing the creation of decentralized networks where "anything of value can be tracked and traded." Who knows, maybe integrated library systems (ILS) of the future will evolve into this new technology, and magically connect digital objects with the end user!
In the Enterprise Search & Discovery Tools session, Camille Mathieu from JPL spoke about the importance of librarians helping their organizations to aggregate content across departments. This will allow the intellectual capital that is often inadvertently buried in obscure databases to become findable and thus usable.
The previous session flowed seamlessly into Transforming our view of roles & services, which covered knowledge management (KM). KM brings order to the chaos of scattered material. Librarians can improve their organizations' ability to track work and generate metadata. This metadata can then be archived into the library's ILS by creating relationships between records. In addition to facilitating increased usage, this also offers the ability to generate metrics.
JIRA is an effective, one-stop shop for tracking and managing work flow and projects. A web page can be created with detailed information plus links to presentations, documents, etc., guiding the project group along until their next meeting. JIRA can also be used as a book location and book request system.
"Anticipatory delivery of information" is a concept where the librarian anticipates the needs of library patrons and employs various means to share external information (via alerts, newsletters, intranet web page, etc.). This type of service is time intensive, where the librarian provides highlights, analyses, summaries, links, etc.; but it can be a highly valued personal touch.
As a consequence of attending the Internet Librarian 2016 conference, I gained confidence in my awareness of new technology and an enthusiasm to use it so that I can provide better services for my organization. As a matter of fact, I recently put that into practice by meeting with the chair of our Quality and Research Council to provide ideas on how to move forward in restructuring procedures to tackle research projects, including ways I could help organize the progress of the research teams using the BMJ Quality project management system.
ABOUT Alan Carr
Alan Carr is the Associate Director, National Network of Libraries of Medicine, Pacific Southwest Region, based at UCLA.
Email author View all posts by Alan Carr