A network member's personal account of the Samoan tsunami
Posted by Julie Kwan on October 27th, 2009 Posted in: Emergency Preparedness and Response, General

---
By Sonja Evensen, Evaluation Specialist
Pacific Resources for Education and Learning (PREL)
Honolulu, HI
This story begins with a trip to Pago Pago, American Samoa, for a work project. I relish the part of my job that brings me to interesting places, with meaningful work, and lovely people. While in such locations, I try to take some vacation time to explore. I prefer Western Samoa to American Samoa, so on Saturday morning I took off for a new adventure, with no set plans, other than finding surf. Samoa has some incredible surf, all along the south coast. On a friend's recommendation, I stayed at Sina PJs, at Tafitoala on the South coast of Upolu. They have a few beach 'fales' or huts, right on the water, near a small village and about a 40 minute walk down the beach from Coconuts resort.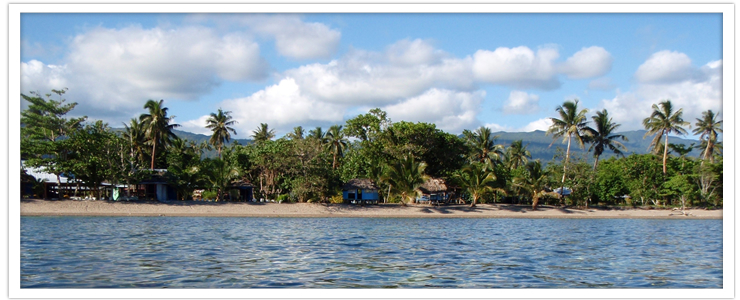 Fales or grass topped huts, right on the water
There are a number of surf breaks all along that coast, but all are so far out that you need a boat. While wandering down the beach the first morning, I happened across Lupe's restaurant on the other side of Coconuts where I met John. John is an American guy, with a Samoan wife and three kids, who were staying down by Lalomanu, at the southeast end of the coast. John set me up with a boat ride out with four Kiwis from Wellington, so I could check out the surf. Those guys were a blast, and later I met the rest of the gang, which included an Aussie medical student and two local surfers. There was Tui, a Samoan who grew up in New Zealand, who had a vision of starting up a water safety operation in Samoa. Billy was originally from Fiji but lived in Saipan, and then came to marry a Samoan lady.
On Monday we went to Siumu for one of those classic surf days, with unreal waves, crystal clear waters, awesome camaraderie, and the kind of day where you can surf until you drop. The place breaks fast and on a gnarly reef, and everyone came up bleeding from the inevitable trips over the reef, but still laughing and charging again, and cheering each other on. The swell picked up that day, and we made plans to surf Boulders the next day. The spot doesn't break often but it was likely to work with that particular size and direction of swell.
The gang invited me to move over to where they were. I left Sina PJs that Monday; a split-second decision that probably saved my life. We had an awesome BBQ and lots of Vailima while re-living the day's surf, and reminded each other to get up early so we could surf again. I was up early, before 6, a little nervous about Boulders, since I was already so sketched at the other break. One by one, the others got up, but a couple of guys maybe had too much Vailima and were still in bed. We were getting ready, and then at 6:45 am, the rolling began. It lasted maybe two minutes. We were betting on the magnitude and later learned it was an 8.3 on the Richter scale. Maybe 15-20 minutes later, we watched as the water sucked out beyond the reef, leaving it totally exposed.
There were other surfers out! And the people below us on the flat part of the land needed to get up a hill, and fast. There was no warning system, and not many were aware that an earthquake can often precipitate a tsunami. Some of the villagers came up to where we were. We all waited and listened. We knew things were pretty bad but there was no sense in going down towards the water at this point.
I heard that a tsunami travels at about 500 mph. There is no way to escape it, and the force of it ripped through the cement at Coconuts resort, flinging boats into the trees, and tearing into everything in its path. Anything on flat land was squashed, for a few hundred yards in, depending on the slope of the land. It's quite amazing how either twenty feet of elevation or five minutes of time can make the difference between who lives or not. It's also interesting to reflect on the serendipitous choices that put you here or there. I have adopted the hardly unique notion that someone is looking out for me.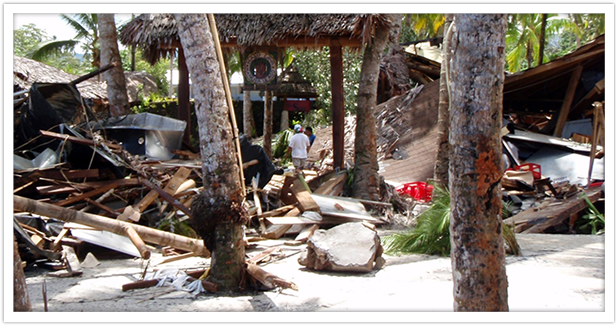 Coconuts Beach Resort was reduced to rubble
When we thought it was over, and no more waves coming, we went down to see, and it was like a war zone. The Kiwis were a great help and having a medical student was very useful, even without supplies. An Australian man with a broken jaw was screaming for his wife. He was taken away to a hospital but later his wife was found dead, pinned under cement. There were lots of people with lacerations and broken bones, if they were alive, but some were pinned under places or flung into the bushes. Kids were wandering without their parents, and parents were missing children. A surfer picked up a dazed turtle and put it back into the ocean. Fish were washed up, and collected, so at least there was some food.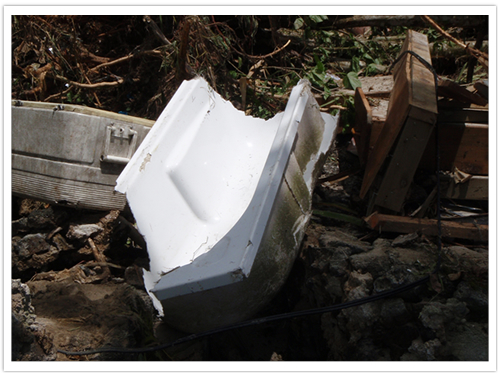 A suitcase and bathtub washed up inland
The craziest story I heard was a Brazilian surfer who had been out surfing that morning. He saw the water tremble when the earthquake hit, and tried to paddle out to sea. He clung to the reef, but then was dragged in by the wall of water and got flung far into the jungle, with only a couple of broken bones. When I met him, he had a bottle of Jack Daniels in one hand, and chain smoked at least four cigarettes during the course of his story. His eyes were as big as saucers, and he was clearly in shock. We waited for information; would there be any more waves? Soon, gangs were looting the place, taking the booze from Coconuts and ripping off wallets and things that tourists had left behind. It took hours before police arrived. Everyone was just walking around, stupefied.
Boat in rubble
Then we learned that John's daughter was staying below at a beach fale that had washed out to sea. We wanted to look for her, but the roads to Lalomanu were closed. There were no boats, no helicopters, and no coordinated system. There were no shelters so people just huddled all along the hillsides, and Billy rounded up as many as he could. There was no electricity, no fresh water, and no one knew how long this would last, and if another wave would come. The Kiwi boys got some text messages from New Zealand, and that was the most information we had. They said that both Hawaii and New Zealand were on tsunami watch. I asked about American Samoa, thinking of my colleague Marilyn, if she was all right. A car radio was no help, there was only music. No news. I had never been so hungry for news. And water. It would be a long time until any help arrived, as Western Samoa is much less equipped than American Samoa.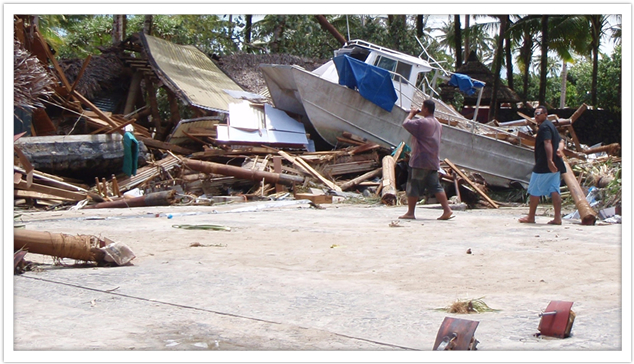 Was this the resort's bar?
I began to think that I needed to get back to Apia, the capital of Western Samoa. I needed to get back to Pago Pago, and I figured it might be difficult and chaotic. I managed to get a ride back to Apia. As soon as I checked into a bed and breakfast in town by the harbor, the police sent the town into another tsunami alert, and we were all running, with our bags, back up the hill. We waited in a field, and two Australian girls offered me some stale crackers, the first food I had all day. That was great, but even better was a sip of water. Most of the tourists were too afraid to stay in the B&B and found places to stay higher up on the hill. I took my chances and stayed where I was, and finally got the chance to connect to the outside world, when the electricity and internet came back. So many messages! I learned how worried people had been about me, and I felt badly that I had not even been thinking of the outside world. A few friends had tried to ask the Red Cross to find me. I was just dazed and taking one step at a time, trying to figure out what I needed to do next. I had no cell phone with me, as my Hawaii phone does not work over there. Most phones were not working, anyway.
First, I let my Dad know I was OK. But where was my colleague from work, Marilyn? Had she survived? I tried to call our hotel in Pago, but there was no answer. Was it possible that the hotel was gone? I also found that the HR office at work had been worried about me, and I let them know I was OK. I then turned my attention to trying to get back to American Samoa. I started wondering if the airport was functioning, and if it would be worse to go to Pago or to try to get back to Hawaii from there. Lots of questions and still no information. The internet provided more information than anything we could learn in Samoa. Yes, Pago had been hit. So now I was even more worried about Marilyn.
I got up the next morning, and there was an email from Marilyn! That was the best news ever. Lots of news stories from the internet, from all over the world. I took a walk into town to see if I could learn anything more about being able to get out. There were lots of Australians camped out at the embassy, perhaps trying to get home or get advice. I found the police station and asked if the airport was functioning. It had been closed the day before, but today flights were going. I went to the airport and managed to get a seat on a very full flight.
Seeing Marilyn again was great! We gave each other a big hug, both of us having had some pretty harrowing experiences. She narrowly escaped being swept into Pago Pago harbor, as she was driving, in the wrong direction, toward the place that got hardest hit. She felt the earthquake and figured she should try to drop off her friend's daughter, figuring there would be no school that day. They had a tsunami alert, but she failed to take it seriously. When she saw the water receding, she followed a bus that turned up a steep incline up to a two-story parking structure, and ran farther up the hill. Both of us being rather shell-shocked, we just exchanged stories and drove back to our hotel at Sadie's by the Sea, which had miraculously been spared. The surge turned to the right in the harbor; all energy funneled toward the Starkist cannery and wreaked all kinds of havoc on that side of the bay. Boats were on land and cars were in the ocean. Pago was a horrific mess and looked much worse than a flattened village, because of the density of the place and the amount of debris floating around.
We actually went to work on Thursday, and yet, I wondered if anyone would even show up. But the reality is that only a relatively narrow strip of land got hit, and the rest of the world not facing that path of destruction may not have even noticed. I walked into the Department of Education office, and the group cheered, you are still here! One of the men had been scanning the news to see if any of the palangi (haole) that was taken away in the stretchers, was me. As other people arrived at work that day, they got a cheer to be alive! And the next step was getting home to Hawaii.
The airport in Pago Pago was really busy shipping in supplies, vehicles, and manpower. It was quite a sight! My friend, who is an ER doctor in Hawaii, got deployed on Wednesday night to help. It was impressive to see how quickly the US mobilized the relief efforts. Now I think I understand what it must feel like to come back from war. Friends and family are so relieved that you have come home safely, yet meanwhile my mind is still back in Samoa, with all those images. I was fine when I was there and had a lot to do. Coming home gave me more time to think. I still think about my new friend John who I just met there, and whether he found his nine year old daughter, Maunalei. And I wonder if that family I stayed with at Sina PJs down the coast got wiped out. I was just teaching their kids how to snorkel the day before.
Editor's Note: More information about the tsumani is available from the NOAA web site.
ABOUT Julie Kwan
Email author View all posts by Julie Kwan