Seizing the Opportunity: Creating a Campus-Wide Symposium on Women's Health Research!
Posted by Alan Carr on September 30th, 2014 Posted in: Outreach, Public Health, PubMed, Training

---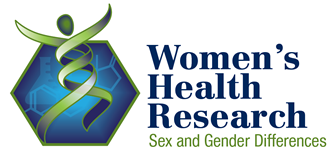 by Jeanette L. Ryan, Deputy Director and
Yamila El-Khayat, Outreach Services Librarian
Arizona Health Sciences Library
University of Arizona
Tucson, AZ
The University of Arizona Health Sciences Library (AHSL) recently developed and carried out a campus-wide symposium on Women's Health Research: Sex and Gender Differences, held in Tucson. The all-day event was held at the student union on the main University of Arizona campus. Our goals were to raise the visibility of women's health research and sex and gender differences at the university, by creating a forum where University of Arizona faculty can present and share their research, provide an opportunity for researchers from both the health sciences campus and main campus to meet informally and engage students, trainees (postdocs, fellows, residents), junior faculty, and other researchers, and to support new researchers as they embark on a career in this discipline. The project was funded by a subcontract from the National Library of Medicine and the Office of Research on Women's Health (ORWH) of the National Institutes of Health (NIH). The librarian planning team from AHSL who put this symposium together in approximately six months consisted of Brooke Billman, Yamila El-Khayat, Annabelle Nuñez, Ahlam Saleh, and Jeanette Ryan.
Finding the researchers to speak at the symposium was our first challenge, especially faculty who were engaged in sex and gender differences in the basic sciences, which is an emphasis of the NIH ORWH. We made appointments with relevant department heads and research deans from the health sciences colleges and contacted relevant departments on the main campus. All were enthusiastic and had several names to suggest. They were also helpful in informing our understanding of what kinds of support would be beneficial to graduate students, trainees, and junior faculty.
Ultimately we decided on inviting a nationally recognized plenary speaker, two sessions of faculty presentations focusing on their own research, a roundtable arrangement for lunch where speakers and the audience could interact informally, a series of afternoon workshop sessions that addressed research services offered by the University of Arizona Libraries, Arizona Health Sciences Library, Office of the Vice President for Research, Office of the Provost, and others. We planned to arrange a poster session as an opportunity for new researchers to present their work and end the day with a networking reception. In addition we hoped to set aside funds to be disbursed by the research deans from each college to cover the costs of items that students, trainees, and junior faculty often have a hard time funding on their own, for example publication costs, travel to conferences, and poster printing.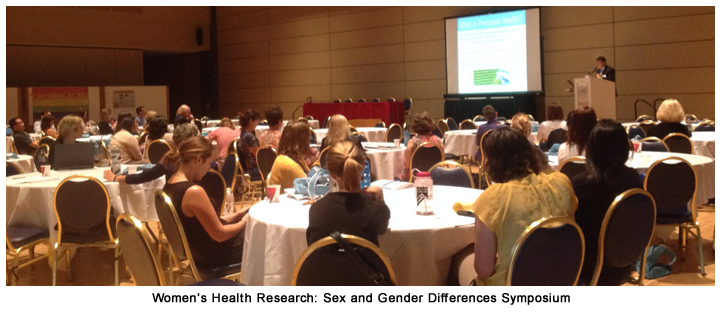 The Symposium
The symposium was held on Friday, September 5, 2014, at the Memorial Student Union on Main Campus, from 8:00am-6:00pm. Approximately 100 people attended. The symposium opened with plenary speaker Kathryn Sandberg, PhD, Director of the Center for the Study of Sex Differences in Health, Aging, and Disease, Georgetown University. Doctor Sandberg spoke on The Over Reliance Of Male Cells And Animals In Preclinical Research: Why Is This A Problem? How Did It Happen? And, How Can We Fix It?
The faculty presentations were next. They were truly academic papers and scientific in nature, and the faculty came from several different departments and colleges. The topics included: Development of a novel mouse model for peri- and post-menopause; Menopause: Role in onset of the metabolic syndrome, diabetic kidney disease and hypertension; Novel mechanisms in the treatment of breast-induced bone cancer pain; The female prostate in health and disease; Precision health care for women of the 21st century; Gender differences in quality of life for supportive partners of Latinas with breast cancer; Gender, race, and women's health; and Women's spirituality, health sciences, and resilience. The speakers then facilitated a roundtable luncheon, thus making themselves available for informal networking and chatting with graduate students, trainees, junior faculty, and other researchers they may not know.
The afternoon workshop topics were: New directions in research development; Research data management for the health sciences; Networking tools & finding funding with Pivot; PubMed & MyNCBI; Introduction to RefWorks & Endnote Online; Why choose REDCap – a researcher's best friend in data management; Managing compliance with the NIH Public Access Policy; Systematic reviews: getting started on the right foot; Publish, not perish: increasing your scholarly output; and Beyond PubMed: Grey literature & other resources. These were followed by a poster session where new researchers shared the results of their work in conjunction with the networking reception that ended the symposium.
Results
AHSL was very pleased with the outcome. The library was able to create and carry out a scientific conference of importance to campus researchers, something that is not usually thought of as being in a library's domain. The symposium provided the library with an opportunity to make a very visible contribution to the university's research agenda. We were especially pleased with the extent to which faculty and researchers embraced the concept of an academic scientific conference, using the opportunity to share current research and new findings. Speakers, facilitators, and breakout leaders came from all over campus. The audience turnout of approximately 100 attendees was excellent.
Although not yet fully analyzed, the evaluations of the participants showed widespread enthusiasm for the conference, especially the opportunity to network with others they did not know. They learned new things. Several people suggested to the planners that they'd like to see this conference held annually! And as planned, AHSL made modest contributions to each college on the health sciences campus to support the needs (travel, poster printing, publications cost, etc.) of graduate students, trainees, and junior faculty pursuing a career in women's health research.
ABOUT Alan Carr
Alan Carr is the Associate Director, National Network of Libraries of Medicine, Pacific Southwest Region, based at UCLA.
Email author View all posts by Alan Carr