The Eagle Books – Diabetes Education Materials for Native American Youth
Posted by Kelli Ham on March 31st, 2015 Posted in: Advocacy, Consumer Health, K-12 Resources, Outreach, Public Health

---
April is National Minority Health Month, which provides an opportunity to highlight some unique health resources. The Centers for Disease Control and Prevention (CDC) creates campaigns to educate the public about preventing disease. In 2005, the Native Diabetes Wellness Program introduced the Eagle Books series, a set of culturally relevant stories and videos for young Native American children about diabetes prevention. The books were very popular, and in 2012 the CDC created a toolkit and an outreach program featuring the books and new materials. Most of the titles are still available for ordering from the CDC website or for downloading as PDF files.
Author Georgia Perez utilizes traditional story telling techniques to convey important messages about eating well and being active. The story books are beautifully illustrated with watercolor paintings.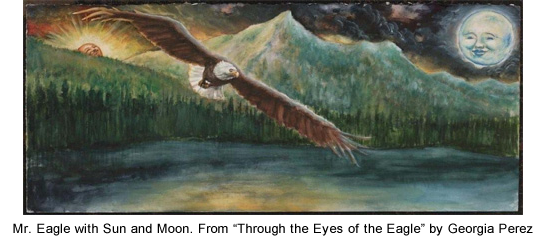 Two versions were printed; one as a standard picture book size, and the other as "big books", a very large format measuring 18" wide by 16" high. Elementary school children enjoy the stories and the art in these books, which would be wonderful for story times in libraries and for health education in schools with Native American populations. The CDC website offers a series of animated videos to accompany the stories, along with coloring books, postcards, and other outreach materials that can be used as part of a diabetes education and prevention program.
Following on the popularity of the Eagle Book series, three new titles were published for middle school-aged readers. These books can be ordered in quantities of up to five at a time at no cost. To learn more about the Eagle Books and to place an order while these materials are still available, visit the Eagle Books Homepage.
ABOUT Kelli Ham
Kelli Ham is the Consumer Health Librarian at the National Network of Libraries of Medicine in the Pacific Southwest Region, based at the UCLA Biomedical Library. When she's not extolling the virtues of MedlinePlus, Kelli can be found hiking local trails or working in her organic garden and native landscape.
Email author View all posts by Kelli Ham