Watch the Swearing-In Ceremony for the New NLM Director!
Posted by Alan Carr on September 15th, 2016 Posted in: General

---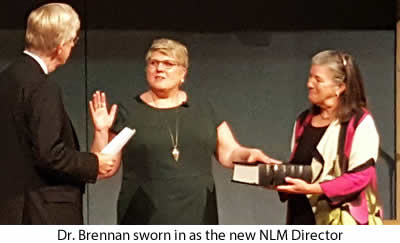 After three weeks on the job, on Monday, September 12, Patricia (Patti) Flatley Brennan, RN, PhD, received her official swearing-in ceremony. The session was recorded and archived for future viewing. Betsy Humphreys, NLM Deputy Director, provided an introduction to the event. She mentioned that it was a day to look to the future, but she also referred to a few past milestones. She noted that this year marks the 60th anniversary of the passage of the Medical Library Assistance Act (MLAA), the legislation which gave the National Library of Medicine its current mission. Ms. Humphreys explained that during the 1960s the scope of NLM's activities was radically expanded by Congress and the U.S. Secretary of Health, Education, and Welfare. Then during the 1980s legislation was enacted creating the National Center for Biotechnology Information (NCBI), which furthered NLM's involvement in the area of health services research. And in the early years of this century, NLM's ClinicalTrials.gov resource was made publicly available, as was PubMed Central (PMC), which provided open access to articles in various biomedical journals. Ms. Humphreys then noted that Dr. Brennan was the 4th director in NLM's modern era, and that these would be her first public remarks in her new capacity.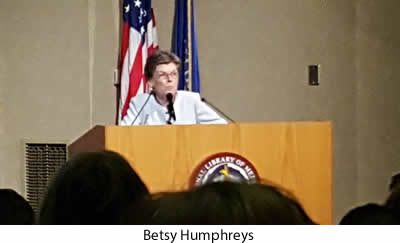 Dr. Brennan then gave a thirty-minute address, with the overarching theme, Anticipating the Third Century. She introduced her background coming from a family of ten children, and mentioned her health care experience as a nurse and industrial engineer, with a focus on reaching into the home. Dr. Brennan then proceeded to discuss various aspects of a vision for NLM, including its roles in supporting discovery, learning from the past, opening science, and improving health care. She noted several times the vital importance of making health care information as broadly available as possible. Next Dr. Brennan focused on the question of what does the future hold and the challenges lying ahead for NLM. Topics covered included the current context of health, mapping the future, accelerating discovery, supporting standards, partnering with experts, curating molecular and genomic data, and improving dissemination of health care information. During the presentation, Dr. Brennan showed two brief videos supporting her points. To conclude, Dr. Brennan noted that the next day she would begin working with the NLM Board of Regents on a one-year strategic planning initiative to create a vision for NLM. During this time, a functional audit of NLM activities will also be conducted.
Following her address, Dr. Brennan received swearing-in from Dr. Francis Collins, Director of the National Institutes of Health. During his remarks, Dr. Collins commented on Dr. Brennan's Twitter presence as "someone who knows how to communicate" and "may give me a run for my money!" The ceremony concluded with remarks from Robert A. Greenes, MD, PhD, current chair of the NLM Board of Regents, who noted his enthusiasm about charting NLM's future with Dr. Brennan and the launching of her strategic planning initiative. Additional details and photos from the ceremony are available in NLM in Focus.
ABOUT Alan Carr
Alan Carr is the Associate Director, National Network of Libraries of Medicine, Pacific Southwest Region, based at UCLA.
Email author View all posts by Alan Carr