Western University of Health Sciences Pumerantz Library Hosts NLM Traveling "Shakespeare" Exhibit
Posted by Alan Carr on August 25th, 2014 Posted in: Advocacy, NLM Products, Outreach

---
By Mary Helen Ellis
Special Projects & Events Manager
Harriet K. & Philip Pumerantz Library
Western University of Health Sciences
Pomona, CA
The Harriet K. & Philip Pumerantz Library is hosting the National Library of Medicine (NLM) traveling exhibit, And there's the humor of it: Shakespeare and the Four Humors, from August 4, 2014, to September 12, 2014. Using familiar quotations from William Shakespeare's plays, this exhibit presents health and medical information as it was understood since the times of Hippocrates, Aristotle, and Galen. The Pumerantz Library staff enjoyed researching the Shakespearean era and created supporting displays enriching the experience of viewing the traveling NLM posters.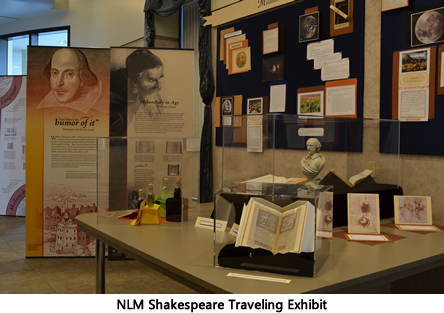 The six handsome banners from NLM are placed strategically in the center of the lobby. Two of the banners explain the main attributes of the four humors and their effects on people. The other four banners reference some of Shakespeare's plays and explain how the humors affected the behaviors of the characters and how people of the time dealt with each other in the light of their understandings. The library staff works to make each exhibit unique whether it is an NLM or a self-generated exhibit.
As research in the sciences began to advance the knowledge of medicine, treatments slowly began to change but it is interesting to observe the old beliefs and compare them to our current thinking. The four bodily humors of blood, yellow bile, black bile, and phlegm were thought to explain everything about human health, both physical and mental, as well as defining their personalities. Modern psychologists may have separated personalities from the bodily fluids, but they still work with four main types, describing them in similar manners.
This exhibit arrived just in time for Welcome Week and the intense beginning of the academic year. The timing is perfect for us since there are many visitors and tours whose first impressions of the library are that it is an attractive, informative and inviting destination!
ABOUT Alan Carr
Alan Carr is the Associate Director, National Network of Libraries of Medicine, Pacific Southwest Region, based at UCLA.
Email author View all posts by Alan Carr