NIH MedlinePlus the Magazine Spring 2016 Issue Available Online!
Posted by Marco Tamase on April 21st, 2016 Posted in: Consumer Health, MedlinePlus, NLM Resources, Rare Diseases

---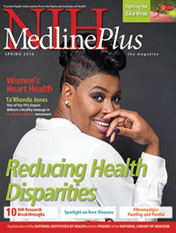 The Spring 2016 issue of NIH MedlinePlus the Magazine features topics including women and heart disease, health disparities, robotic innovations, drug-induced hearing loss, rare diseases, and fibromyalgia. The cover features Ta'Rhonda Jones, star of Fox TV's Empire, who shares her message about cardiovascular disease among women. She describes her experience with a heart condition and her involvement in the American Heart Association's Go Red for Women movement and Red Dress Collection.
The issue also features an article about NIH's efforts in improving minority health and reducing health disparities. Eliseo J. Pérez-Stable, MD, Director of the National Institute on Minority Health and Health Disparities, explains the major health challenges facing minorities in the U.S. today. Dr. Pérez-Stable discusses establishing a robust research program in the health care setting where disparities may be reduced, improving cross-cultural communication between patients and health professionals, and promoting diversity in clinical research by including all minorities in both therapeutic trials and observational studies.
NIH MedlinePlus the Magazine is the free, trusted consumer guide to the vast array of authoritative online health and medical information in MedlinePlus. Published four times a year, the magazine showcases the National Institutes of Health's (NIH) latest medical research and healthcare information. NIH MedlinePlus the Magazine is freely available as a print subscription, e-mail alerts, and online.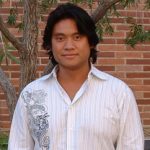 ABOUT Marco Tamase
Marco Tamase is the Member Services Coordinator for the Pacific Southwest Region of the Network of the National Library of Medicine located at UCLA.
Email author View all posts by Marco Tamase