NLM Launches Web Content Collecting Initiative to Preserve Health-Related Blogs and Other Media
Posted by Marco Tamase on November 8th, 2012 Posted in: Consumer Health, NLM Resources, Web 2.0 Tools

---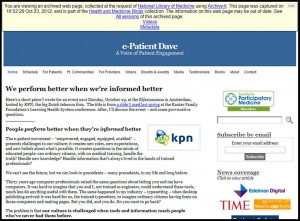 The National Library of Medicine (NLM) has launched a Web content collecting initiative. The Library is selecting Web content as part of its mission to collect, preserve, and make accessible the scholarly biomedical literature, as well as resources that illustrate a diversity of philosophical and cultural perspectives not found in the technical literature. New forms of publication on the Web, such as blogs authored by doctors and patients, illuminate health care thought and practice in the 21st century. In launching this initiative, the Library is capturing and providing a unique resource for future scholarship.
The Library's inaugural collection of Web content is "Health and Medicine Blogs," presenting the perspectives of physicians, nurses, hospital administrators and other individuals in health care fields. The collection also includes patients chronicling their experiences with conditions such as cancer, diabetes and arthritis. The site currently contains 12 blogs, including KevinMD.com, "social media's leading physician voice;" Not Running a Hospital, a blog by a former CEO of a large Boston hospital; e-patient Dave, a cancer survivor and leader in the participatory medicine movement; and Wheelchair Kamikaze, who writes about his personal experience living with multiple sclerosis (MS).
Guided by the NLM Collection Development Manual and other strategic collecting efforts, NLM will continue to expand its capacity to collect Web content. With this initiative NLM has taken a major new step in its mission to collect pertinent health care information of today for the benefit of research in the future. Increasingly, that information is found on the Web, which is a rapidly changing environment, where valuable and interesting materials can surface and then quickly disappear. The Library is working to ensure it can effectively collect new material in a Web environment, and guarantee the material's permanence and availability to current and future patrons.
In launching this initiative, NLM joins many other national, state and public libraries and archives that have acknowledged the importance of preserving Web content for future generations. In addition to the Internet Archive, which has been broadly archiving the Web since 1996, dozens of libraries and cultural heritage institutions have been engaged in thematic or event-based collecting. This community has contributed to the development and use of common tools, techniques, and standards that enable the creation of Web archives. NLM has benefitted from this work and from local partners such as the Library of Congress, which is actively engaged in collecting and preserving Web content. The NLM has already been archiving portions of its own Web domain considered to be of enduring value. With this new effort, the Library is now collecting Web content that others have created.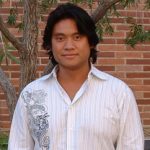 ABOUT Marco Tamase
Marco Tamase is the Member Services Coordinator for the Pacific Southwest Region of the National Network of Libraries of Medicine located at UCLA.
Email author View all posts by Marco Tamase