Request for Information: NNLM Seeks To Understand Library Research/Data-Related Services!
Posted by Nathalie Reid on April 11th, 2017 Posted in: Announcements, Data, E-Science

---
With the arrival of Patricia Flatley Brennan, R.N., Ph.D., as the new Director of the National Library of Medicine, the NNLM is thrilled to see her excitement, enthusiasm, and emphasis on the importance data plays and will play in biomedical discovery and delivery of healthcare. This means that if your library is supporting data-related research anywhere along the research lifecycle, the RML would like to know about it. We are conducting an environmental scan seeking to understand a variety services, such as staffing, job titles/descriptions, terms used to promote services, content use (original vs links to content), etc. Note to Library Directors: If you would like to make sure your research/data-related services librarian in involved in this scan, please contact your NNLM regional office.
Each Regional Medical Library is reaching out to their Network members with a brief questionnaire, including a series of questions designed to help increase our understanding about how Network members support the research/data-related efforts at their institutions. This understanding will inform NNLM on the types of research/data-related services being provided by NNLM Network member institutions to their communities. Understanding who provides research/data-related services will improve communication with those experts and the NNLM. Please complete the questionnaire by April 21.
The NNLM is broadly defining research/data services librarians as those who provide a wide range of expertise in training, consultation, or information access support for researchers at any point along the research data lifecycle. Training might include teaching data visualization, metadata standards, or data related requirements from funders, such as NIH or NSF. Consultation services may include developing or maintaining a service framework to manage researcher's data throughout the research lifecycle. It could include collaboration with researchers to find or create data, develop effective data management strategies, analyze or visualize data, or preserve/store data. Research/data services librarians might support biomedical big data or assist with access/training on specialty software packages for statistical, geospatial, or qualitative data analysis.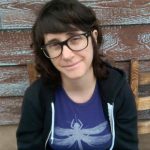 ABOUT Nathalie Reid
Nathalie Reid is the Data Services and Technology Librarian for the Pacific Southwest Region of the National Network of Libraries of Medicine located at UCLA. She enjoys riding her scooter, crafting, baking, and hanging out with her two cats.
Email author View all posts by Nathalie Reid