NAPC Community Awards Available Now!
Posted in: #CC/Academic List, #Health Interest List, #Health Sciences List, #Public/K-12 List, All Members, All of Us, Blog

---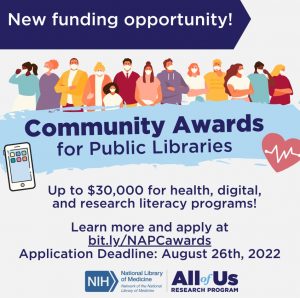 Space
The NNLM All of Us Program Center is excited to announce our Community Award grants for libraries and community organizations! The Community Awards provide funding for NNLM members to design and implement programming to increase community skills in health literacy, digital literacy and/or public understanding of clinical research, build community partnerships, and promote All of Us and NNLM resources.
Space
NAPC Community Awards
Award Amount: $30,000
Number of Awards Available: 5
Application Deadline: August 26, 2022
Space
Application materials, in-depth instructions, and other resources can be found in the online announcement.
Questions? Email LIB-NAPCengage@uiowa.edu.
Space