Announcing NNLM Region 5 Listens Session
Posted by Michele Spatz on September 1st, 2021 Posted in: News from NNLM Region 5
Tags: NNLM Region 5, NNLM Region 5 Listens
---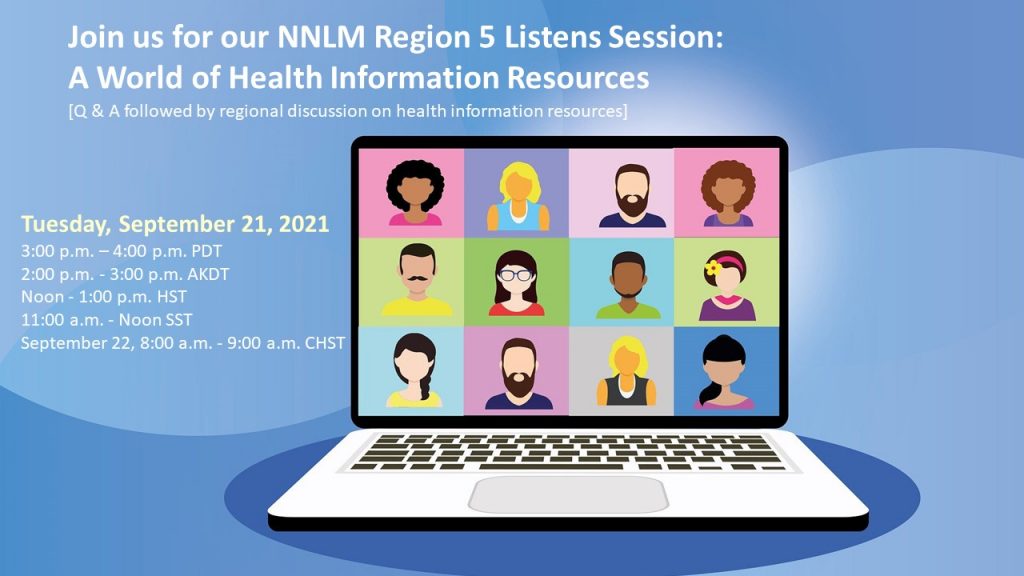 Please join us for our inaugural NNLM Region 5 Listens Session on Tuesday, September 21, 2021 from 3:00 p.m. – 4:00 p.m. Pacific Time | 2:00 p.m. – 3:00pm Alaska | Noon – 1:00 p.m. HST | 11:00 a.m. – Noon SST (American Samoa) | September 22, 8:00 a.m. – 9:00 a.m. ChST (Guam). NNLM Region 5 serves organizations in Alaska, California, Hawaii, Nevada, Oregon, Washington, U.S. Territories and Freely Associated States.
The purpose of the NNLM Region 5 Listens Session series is to:
build relationships among NNLM Region 5 Network members, and
learn about health information access, education, or technology needs; and
foster a fruitful exchange of perspectives on regional issues impacting the equal access to biomedical and health information resources and data.
After hearing from participants, our discussion topic for this session will be: A World of Health Information Resources. NNLM staff will facilitate a discussion by asking the following:
What are the topics for which you need health information resources?
Who is your intended audience or audiences?
In what languages do you need health information resources?
What format would best reach your intended audience(s)?
Registration is required to join the NNLM Region 5 Listens Session. You may submit questions or concerns at the time of registration. NNLM Region 5 staff will do their best to address all submitted questions and concerns during the sixty-minute listening session.
Interested? Registration is free. Register here!
Please note that registration closes Monday, September 20 at 5:00 p.m. PDT.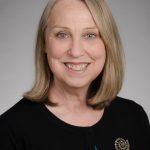 ABOUT Michele Spatz
Michele is the NNLM Region 5 Outreach and Engagement Coordinator. She has extensive experience providing consumer health information and a passion for health literacy. Michele truly believes, "Because of you, Libraries Transform.®"
Email author Visit author's website View all posts by Michele Spatz