Consumer Health Minute: NNLM Public Libraries Guide
Posted by Carolyn Martin on October 5th, 2022 Posted in: Consumer Health, Health Literacy, News from NNLM, Public Libraries
Tags: consumer health, health information, health literacy, National Health Observances, Public Libraries
---
October is Health Literacy Month, a time to highlight the importance of providing equitable access to easy-to-understand health information which is part of the Network of the National Library of Medicine's (NNLM) mission. The NNLM provides several guides on the website on topics related to health information. These are all freely accessible with links to quality resources.
Visitors to public libraries come with many questions, including questions about health topics. Some library staff may not feel as confident about health information resources. A great tool to help library staff, with health information, is the recently revised and updated Public Libraries Guide.
The information in this guide to provide public library staff with resources helpful to their patrons related to health information. The guide includes content on a variety of topics such as:
Evaluating Health Information
Health Information Resources
Behavioral and Mental Health
Health Programming
Visit the NNLM Public Libraries Guide today!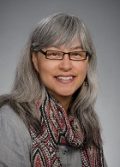 ABOUT Carolyn Martin
Carolyn Martin is the Outreach and Education Coordinator for the NNLM Region 5. She works with various libraries and community organizations to increase health literacy in their communities.
Email author View all posts by Carolyn Martin