Copyright for Educators
Posted by Patricia Devine on January 2nd, 2014 Posted in: Resource Sharing & Document Delivery, Training & Education

---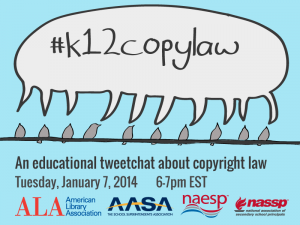 The American Library Association (ALA) is hosting a free Twitter chat on Tuesday, January 7, 2014, 3:00 to 4:00 PM Pacific Time. Participants will have the opportunity to have their questions about the use of copyrighted materials in schools answered by copyright expert and author Carrie Russel, by signing into Twitter and using the hashtag #k12copylaw. Learn more about Twitter chats and hastags here. You may use Twitter as usual for the chat, but a tool like http://tweetchat.com/ is helpful. The interactive social media event will be co-hosted by AASA: The School Superintendents Association, the National Association of Elementary School Principals and the National Association of Secondary School Principals.
Russell, who is also the director of the American Library Association's Program on Public Access to Information, will offer guidance on legal ways for principals, superintendents, teachers and librarians to provide materials to students. She will discuss common scenarios encountered in schools, including using digital works, music, and students' use of material from the Internet. Participants will learn about Fair Use, Copyright Law in the Digital Age, and more.  For more information, see the ALA Washington Office blog, "District Dispatch."
ABOUT Patricia Devine
Medical Librarian, Network Outreach Coordinator, NN/LM, PNR. I work for a network of libraries and organizations with an interest in health information.
Email author Visit author's website View all posts by Patricia Devine