DataFlash: LitCovid vs. COVID-19 Portfolio Tool
Posted by Nancy Shin on June 8th, 2020 Posted in: Blog, Data Science, Emergency Preparedness, Public Health
Tags: COVID-19 Portfolio, litcovid
---
For those of you who are curious about the differences between two new COVID-19 tools, LitCovid and COVID-19 Portfolio Tool, here are some answers!
As you already know, LitCovid is a curated literature hub for tracking up-to-date scientific information about the 2019 novel Coronavirus.  Though, LitCovid is limited to articles in PubMed, includes research on other coronaviruses such as MERS, divides the articles into different categories (e.g. Mechanism, Transmission, Diagnosis, and Treatment), and shows the countries of origin on a world map.
This contrasts with the "iSearch" COVID-19 Portfolio Tool, which like LitCovid is a comprehensive, expert-curated source for publications related to COVID-19.  Though, COVID-19 Portfolio Tool has the following features that distinguish it from LitCovid:
includes both publications and preprints (the medRxiv, SSRN, arXiv, bioRxiv, Research Square and ChemRxiv);
is curated by subject matter experts to focus coverage on SARS-CoV-2/COVID-19;
allows searching of full text and/or supplemental data in addition to titles and abstracts;
leverages the cutting-edge analytics available in our iSearch tool, including powerful search functionality and faceting;
includes interactive visualizations that allows users to select topics within their search results for download or further queries; and
makes it easy to download results at any point as a CSV or Excel file.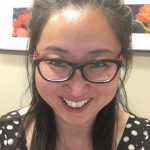 ABOUT Nancy Shin
I received my Bachelor of Science in the Integrated Sciences majoring in medical genetics and animal biology from the University of British Columbia (UBC). I also graduated from UBC's esteemed MLIS program with a focus on health librarianship. In 2018, I was the Research Data Management Sewell Fund Fellow for the Technology Incubator at Washington State University. Currently, I'm the NNLM Region 5's Outreach and Data Coordinator for the University of Washington's Health Sciences Library. In my spare time, I enjoy photography, drawing, cooking and baking, and travelling the world!!!
Email author View all posts by Nancy Shin