DataFlash: NNLM's Love Data Week (February 8th-12th)
Posted by Nancy Shin on February 4th, 2021 Posted in: Data Science, Training & Education
Tags: Love Data Week, NN/LM
---
Love Data Week is an annual international celebration of all aspects of data. This February 8th-12th, NNLM is spotlighting four experts on various aspects of open data for a week of learning and sharing in the spirit of "open."
At four 30-minute "coffee chat" sessions fromMonday through Thursday, listen to each one of our guest experts discuss their work and answer audience questions in an informal setting. Then, join us on Friday as part of the RDM Webinar Series for a moderated panel discussion with all speakers to discuss bigger questions about their experiences working with open data.
Monday, Feb 8th
Reflections on Open Access and Ethics in Data Literacy Training
Ibraheem Ali, Sciences Data Librarian, University of California Los Angeles
Tuesday, Feb 9th
How Open Data Can Support a Pandemic Response
Bob Gradeck, Project Director, Western Pennsylvania Regional Data Center
Wednesday, Feb 10th
Advocating for Open and Equitable Scholarly Communications
Yasmeen Shorish, Associate Professor & Head of Scholarly Communications, James Madison University Libraries
Thursday, Feb 11th
If You Share It, Will They Come? Exploring How Open Data Are Reused
Lisa Federer, Data Science and Open Science Librarian at the National Library of Medicine
Friday, Feb 12th
Spotlight on "Open" Panel Presentation
Our panelists will weigh in on their careers and what brought them to working with open data, important skills and favorite resources, project management and working with a team, and more.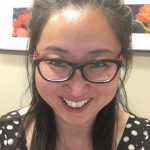 ABOUT Nancy Shin
I received my Bachelor of Science in the Integrated Sciences majoring in medical genetics and animal biology from the University of British Columbia (UBC). I also graduated from UBC's esteemed MLIS program with a focus on health librarianship. In 2018, I was the Research Data Management Sewell Fund Fellow for the Technology Incubator at Washington State University. Currently, I'm the NNLM Region 5's Outreach and Data Coordinator for the University of Washington's Health Sciences Library. In my spare time, I enjoy photography, drawing, cooking and baking, and travelling the world!!!
Email author View all posts by Nancy Shin