DataFlash: Region 5's NCDS Summer Interns!!!
Posted by Nancy Shin on June 17th, 2022 Posted in: Data Science, Training & Education
Tags: ncds, NNLM Region 5, summer internship
---
The NNLM National Center for Data Services is proud to announce their first cohort in the Data Internship program! The goal of the program is to provide graduate students from underrepresented racial and ethnic groups with practical experiences and skills for obtaining data librarian positions. These paid internships offer opportunities to work with real life data and scenarios while working with a mentor in a guided environment. After a highly competitive application and external review process, three iSchool students from Region 5 were selected!!!
Please join Region 5 in congratulating these NCDS summer interns from Region 5:
Maria Arteaga Cuevas from University of Washington's iSchool – Data Curation Network, Data Curation Project
Dev Wilder from University of Washington's iSchool – NYU Health Sciences Library, Evaluation Data Project
Silvia Wu from San Jose State University's iSchool – NYU Health Sciences Library, Evaluation Data Project
Congratulations Maria, Dev, and Silvia; we can't wait to see your completed projects in August 2022!!!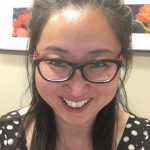 ABOUT Nancy Shin
I received my Bachelor of Science in the Integrated Sciences majoring in medical genetics and animal biology from the University of British Columbia (UBC). I also graduated from UBC's esteemed MLIS program with a focus on health librarianship. In 2018, I was the Research Data Management Sewell Fund Fellow for the Technology Incubator at Washington State University. Currently, I'm the NNLM Region 5's Outreach and Data Coordinator for the University of Washington's Health Sciences Library. In my spare time, I enjoy photography, drawing, cooking and baking, and travelling the world!!!
Email author View all posts by Nancy Shin