DataFlash: Urban Institute's "Do No Harm Guide"
Posted by Nancy Shin on November 22nd, 2021 Posted in: Accessibility, Blog, Data Science, Equity Diversity Inclusion, Health Disparities, Health Equity, Training & Education
Tags: accessibility, data visualization, DEI, urban institute
---
A few months ago, I had the pleasure of attending a Public Library Association (PLA) webinar on data and came across a gem of a resource from the Urban Institute.  The Urban Institute has been around for over 50 years providing facts and knowledge in an accessible way to communities surrounding social and economic issues. This much needed resource on data ethics was published June 2021 from the Urban Institute and is authored by Alice Feng and Jonathan Schwabish and it is called the "Do No Harm Guide – Applying Equity Awareness in Data Visualization".
This resource is AMAZING. It is a guide on how to develop data analytics that are accessible, diverse, inclusive, and equitable. It looks at data behind the point on a graph to really emphasize the person and lived experience behind each data point. As well, the "Do No Harm Guide …" teaches people how to create data visualizations with an equity lens so that communities are not harmed by the data and visualizations. The theme that is highlighted throughout the guide is the concept of reciprocity – that researchers need to exercise reciprocity when collecting data from communities especially marginalized ones. The question of how can communities benefit from the data collected and the research done is a central question asked and honored throughout this guide; so, rather than exploiting communities for their data, the "Do No Harm Guide…" encourages researchers to empower the communities that they work with by looking at ways the data could improve the lives of the people who make up the respective researched communities.
The most useful and helpful part of this guide is their reference section of ALL the material that they researched to write this great guide.  Alice and Jonathan share the books and websites that inspired and guided their own work in data analytics. If you are short on time, have a look at their one-page DEI data visualization checklist or their one-page DEI data visualization guide at the end of their report. Happy reading!!!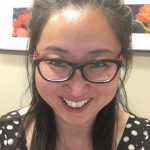 ABOUT Nancy Shin
I received my Bachelor of Science in the Integrated Sciences majoring in medical genetics and animal biology from the University of British Columbia (UBC). I also graduated from UBC's esteemed MLIS program with a focus on health librarianship. In 2018, I was the Research Data Management Sewell Fund Fellow for the Technology Incubator at Washington State University. Currently, I'm the NNLM Region 5's Outreach and Data Coordinator for the University of Washington's Health Sciences Library. In my spare time, I enjoy photography, drawing, cooking and baking, and travelling the world!!!
Email author View all posts by Nancy Shin