All Awards Are Live!
Posted by Molly Roberts on September 15th, 2016 Posted in: Consumer Health, Emergency Preparedness, Funding, General, Outreach, Public Health, Technology

---
Hello, members! The GMR is currently offering eight different funding opportunities and are accepting applications for all awards.
Advisory groups have started reviewing the first group of applications that were submitted by the initial September 12th deadline (Emergency Preparedness Award, Express Outreach Award, Technology Improvement Award and Professional Development Award), but the GMR will continue to review subsequent submissions until all funding has been exhausted, so it's not too late to apply! We have been receiving applications and still have funding left to distribute.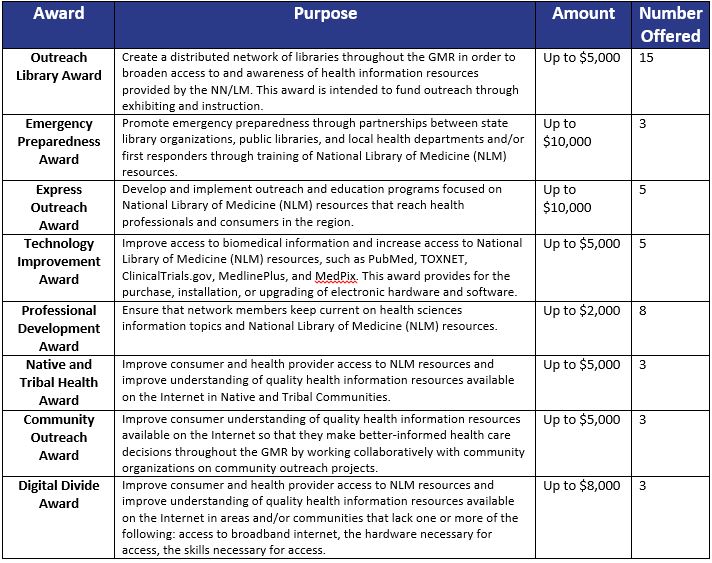 Advisory groups will begin reviewing initial applications for the Outreach Library Award on October 7th and the Native and Tribal Health Award, Community Outreach Award, and Digital Divide Award on October 14th. If you would like to have your application to receive first consideration, please complete and submit them by these deadlines.
Please don't hesitate to reach out if you have any questions about these awards or the application process. You can reach us via email at gmr-lib@uiowa.edu or give us a call at (319) 353-4479.
Thank you!
— Molly Olmstead
ABOUT Molly Roberts
Molly grew up in Michigan but now lives in Iowa City with her husband Seth, dog Fenway, and cat Whiskey. She's an avid reader and is currently trying to read everything Haruki Murakami has ever written.
Email author Visit author's website View all posts by Molly Roberts