Pride 2023 Week 3 – Counting All Sexual and Gender Minorities (SGM) Elderly
Posted by Jacqueline Leskovec on June 13th, 2023 Posted in: Blog
Tags: LGBTQ+, lgbtq+ health
---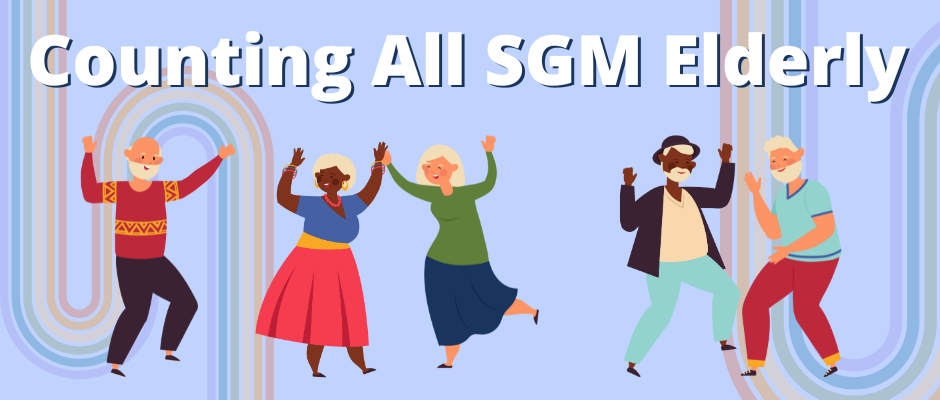 People who identify as LGBTQIA+ may experience health disparities due to social stigma and care givers unfamiliar with their needs. Health care needs change throughout the life cycle of all people no matter where on the gender or sexuality spectrum they fall.
According to Census.gov, almost 17% of people in the U.S. are aged 65 and older. Of those, 2.4 million people identify as lesbian, gay, bisexual or transgender (LGBT). The intersectionality of these identities of being elderly and a member of a sexual and gender minority (SGM) can exacerbate health disparities in care, housing, income, and other social determinants of health.
Here are some free resources specifically for SGM elderly and their care givers.
A core part of ASA's mission is its focus on diversity: we lead the field of aging in educating and training members on cultural awareness and competencies. Part of that education is our ongoing, unique coverage of LGBTQ aging issues. Now that the Defense of Marriage Act is eroding, what are the legal issues and impacts for this cohort? What are the particular health issues for the LGBTQ community? What might be the best models for culture change that will ameliorate discrimination in eldercare facilities? What are the retirement planning issues specific to same-sex couples? Mainstream media and people's personal blogs may tell the story that captures attention, but ASA gives you the factual information that supports your informed policymaking strategy and in establishing best practices and models that "do the right thing" for LGBTQ communities nationwide.
The Long-Term Care Equality Index 2023 represents the first validated survey on LGBTQ+ inclusion in long-term care and senior housing communities. The Human Rights Campaign Foundation and SAGE are excited to present this report on the 200 communities from 34 states (including D.C.) that actively participated in the LEI 2023 survey.
The LGBTQIA+ Aging Project works toward equity, inclusion, and community for lesbian, gay, bisexual, transgender, queer, questioning, intersex, and asexual older adults, ensuring that they can age with the dignity and respect they deserve.
NIA-funded researchers are collaborating with sexual and gender minority older adults for a better future.
The National Resource Center on LGBTQ+ Aging is the country's first and only technical assistance resource center focused on improving the quality of services and supports offered to lesbian, gay, bisexual and/or transgender older adults, their families and caregivers.
We make aging better for LGBTQ+ people nationwide. How? We show up and speak out for the issues that matter to us. We teach. We answer your calls. We connect—generations, each other, allies. We win. And together, we celebrate. Learn more about our mission and core values. (Some resources in Spanish.)
May 16th is LGBT Elders Day
ABOUT Jacqueline Leskovec
Jacqueline Leskovec, MLIS, MA, RN (she/her) is the Network Coordinator for NNLM Region 6. She is the lead for the Partner Outreach Program (POP), Network membership and user accounts, the Data Reporting System (DRS), and the Region 6 website. She has been with the Network since 2005. In addition to being a health sciences librarian, Jacqueline maintains her license as a registered nurse. She works from her home office in Chicago. She is well acquainted with power tools and will be happy to bore you with details of her many home repair and remodel adventures.
Email author View all posts by Jacqueline Leskovec