Welcome New NLM Director, Dr. Brennan!
Posted by NNLM Region 7 on September 21st, 2016 Posted in: Announcements

---
Dr. Patricia Brennan's September 12th swearing in ceremony is available for viewing online: Swearing In Ceremony for New NLM Director.
Dr. Brennan's inspiring address speaks about endeavors and goals that will be significant for the future of the National Library of Medicine. Some important points that Dr. Brennan discusses includes a recognition of the importance of intention and systematic approaches with regards to standards. Dr. Brennan also discusses the importance of our continued distribution of accessible, useful, and safe information, as well as our responsibility to make sure that scientists, clinicians, and patients can access this information without barriers and with a great deal of trust.
Dr. Brennan's leadership is an exceptional addition to the National Library of Medicine and we are excited to welcome Dr. Brennan as the new National Library of Medicine Director.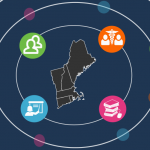 ABOUT NNLM Region 7
Network National of Libraries of Medicine, Region 7
Email author View all posts by NNLM Region 7