Invitation to NNLM NER Funding Meeting 12.12.17
Posted by NNLM Region 7 on November 15th, 2017 Posted in: Announcements, Funded Project, Trainings
Tags: funding, Training, workshop
---
You are invited to the NNLM NER Funding Meeting.
Tuesday, December 12, 2017 – 9:30am-3:30pm at the University of Massachusetts Medical School (Faculty Conference Room), Worcester, MA
Are you curious about receiving NNLM NER funding? What is the process? What do we look for?
Want ideas, or bounce your ideas off others?
Have you received funding before and want to share what you know and your projects with others?
Join us for a day to learn about and from previously funded projects, learn about evaluation, and share project ideas and questions with others.
A tentative schedule is below. We will be sending out more details about the content and logistics to registered individuals as we get closer to the event.
9:30-10am – Arrival, networking, light snacks
10am-10:45am – Welcome and Overview of NER funding program (info on requirements, expectations, etc)
10:45-11am – Break
11am-12pm – Presentations about the funding experience from Currently Funded Projects (invited presentations)
12pm-1pm – Lunch & Networking
1pm-2pm – Presentation: How to evaluate a project and logic model training from the National Evaluation Office
2pm-2:15pm – Break
2:15pm-3:15pm – Round table discussions
3:15pm-3:30pm – Wrap up and end
Please fill out the registration form if you would like to attend. This event is free and open to anyone interested, but we have a limited capacity so register now.
Lunch is included and travel reimbursement is available.
http://www.surveygizmo.com/s3/3980831/Funding-Meeting-12-12-17-Registration
Please contact Martha Meacham (martha.meacham2@umassmed.edu – 508.856.1267) with any questions or for more information.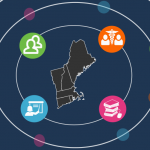 ABOUT NNLM Region 7
Network National of Libraries of Medicine, Region 7
Email author View all posts by NNLM Region 7