Couples Teamwork Program: Shaping a Strong Future with Chronic Illness
Posted by Susan Halpin on February 5th, 2018 Posted in: Blog, Funded Project, NLM Resources, Patient Engagement, Public Health
Tags: chronic illness, couples, teamwork, YWCA of Central Massachusetts
---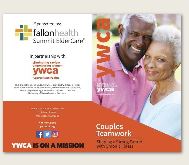 The following is the first in a series of blog posts written by NER funded grant recipients. Through these posts we hope to share with you how NLM resources are helping those in need in New England.
This week's blog post was written by Elyce Waksman, the Couples Teamwork Program Manager from the YWCA of Central Massachusetts . Elyce writes about The Couples Teamwork program developed in Worcester, Massachusetts that brings couples together to share information and resources as they navigate the physical, emotional, and financial aspects of a family coping with a chronic illness.
Facing a lifelong diagnosis with a partner or loved one can be daunting, but it doesn't have to control you. With teamwork and a set of strategies for tackling life's complex issues, you and your loved one can manage the illness and live strong, happy, and healthy lives together. That's what YWCA Central Massachusetts Couples Teamwork Program participants learned in October and November of 2017. A group of couples facing various chronic illnesses came together every weekend to learn from experts, share their experiences with each other, build friendships, and set goals for a strong future. This program is open to all adults with a chronic illness and their caregiver (such as a partner, parent, sibling, or child.
On October 1, 2017, the group came together for the first time at Summit ElderCare® on Grafton Street in Worcester and set goals for themselves with the guidance of clinical psychologist Elizabeth T. Austin, Psy.D., who specializes in chronic disease management. Throughout the seven weeks, participants learned how to access accurate and reliable medical information online through resources from the National Network of Libraries of Medicine (NNLM). Austin led participants through a workshop on emotional balance, resilience, and healthy communication. Dietitian Jennifer Fournier helped participants experience mindful eating, taught them about the nutrition contents of common foods, and even provided some delicious (and nutritious!) recipes. With professionals Elizabeth Myska, P.C., and Patricia Altomare, Esq., participants had the opportunity to ask questions about their legal and financial concerns like healthcare, retirement, and estate planning. Personal trainer Stephanie Puentes worked with each couple to make individualized fitness plans that would suit each person's needs. The program ended with a Wellness Resource Fair, connecting participants directly with local resources. Our participants raved about the wide range of information presented each week, as well as the benefits of sharing and learning from each other in this FREE program.
So how did this unique and comprehensive program come to be?
In 2015, a group of women in the YWCA community found that they had similar experiences and struggles in their caregiving relationships. This group of women and their spouses discovered the mutual benefits from sharing knowledge, asking questions, and just venting. But they had a lot of questions and concerns that they could not figure out on their own. Together they envisioned what has now become the Couples Teamwork Program, a seven-week series for individuals with chronic illnesses and their loved ones to learn from experts on the subjects that matter most to them, gain access to local and online resources, and support each other. In partnership with Fallon Health Summit ElderCare® and with funding from the National Network of Libraries of Medicine New England Region (NNLM NER), we have had the wonderful opportunity not only to make these women's vision a reality, but to provide this program free of charge for members of the Greater Worcester community.
Another session of the Couples Teamwork Program is beginning March 3,  and will continue through April 14, 2018, on Saturday mornings 10AM-12PM at either the YWCA, or at Summit Eldercare, both are located in Worcester.   To register or for more information, please contact Elyse Waksman at healthprogram@ywcacentralmass.org.

ABOUT Susan Halpin
Email author View all posts by Susan Halpin