Eureka! A Program for Girls that Encourages Healthy Living
Posted by Susan Halpin on February 20th, 2018 Posted in: Blog, Funded Project, NLM, Public Health

---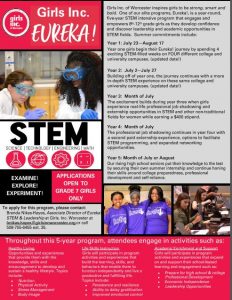 The following is the second in a series of blog posts written by NER funded grant recipients. Through these posts you can read about how NLM resources are promoting health in our New England communities.
This week's blog post was written by Meaghan McCarthy, the Eureka! Program Manager from the Girls Inc. organization located in Worcester, Massachusetts.  Meaghan writes about the healthy living after-school program implemented through a NNLM Community Engagement grant.
Girls Inc. of Worcester offers Healthy Living programming (July 2017 – March 2018) for 90 high school girls enrolled in Girls Inc. Eureka! (Girls Inc.'s capstone STEM – science, technology, engineering, and math – program) and 150 girls registered in Girls Inc.'s after school program.  Girls Inc.'s multi-tiered Healthy Living Project aligns with NNLM's mission to broaden access to and awareness of health information resources, with an emphasis of using those resources provided by NLM.  The project will complement and enhance Girls Inc. Eureka! and Girls Inc. after school programs.
Girls Inc. Eureka! participants completing summer Externships at Girls Inc. (July 2017) utilized their training in PubMed, Medline Plus, and other NLM resources to create age-appropriate Healthy Living Curricula for girls in grades K-9.  The curricula developed last summer is now being implemented during Girls Inc. after school programming from September 2017 through March of 2018. The curricula enhances the Girls Inc. National guidelines for physical fitness and nutrition.
Healthy Living activities include:
Measuring Sugar
Obesity in America
Healthy Eating Throughout the Holidays
Staying Motivated Means Staying Active
Dental Hygiene
Self-Defense
In March 2018, three Cohorts of Girls Inc. Eureka! participants (90 girls grades 8-10) will visit the UMass Medical School, Lamar Soutter Library, for tours, research and Internet Safety training.
Girls Inc. Eureka! program flyer. Eureka! 5-year STEM and Leadership program which includes programming partnered with NNLM.

ABOUT Susan Halpin
Email author View all posts by Susan Halpin