NNLM Wikipedia Edit-a-Thon – April 17th
Posted by NNLM Region 7 on March 28th, 2018 Posted in: Announcements, NLM, NLM Resources, Trainings
Tags: event, Training, Wikipedia
---
Are you interested in improving the consumer health information available on Wikipedia? Do you want to utilize your librarian research skills towards making Wikipedia a better, evidence-based resource? Have you always wanted to participate in an edit-a-thon? Join the National Network of Libraries of Medicine on April 17th as we add citations to existing Wikipedia articles on rare diseases! We'll be working on those diseases listed by the Genetic and Rare Disease Information Center, using trusted National Library of Medicine resources like Genetics Home Reference, MedlinePlus, and PubMed.
If you're new to adding citations, NNLM will be hosting a webinar with Dr. James Heilman, a physician and active WikiProject Medicine editor. Dr. Heilman will give attendees an overview of the importance of Wikipedia, and will demo how to add a citation. NNLM's webinar with Dr. Heilman is scheduled for 2-3 pm ET on Thursday, March 29th. Participants are encouraged to register for the training even if they can't attend, as all registered participants will receive a recording of the webinar. Please note: you must create a Wikipedia user account prior to the event to be able to participate.
NNLM staff from across the region will be available Tuesday, April 17th from 9 am ET to 9 pm ET to support you as you add your citations. Follow along with the fun on Twitter–check for hashtag #citeNLM2018!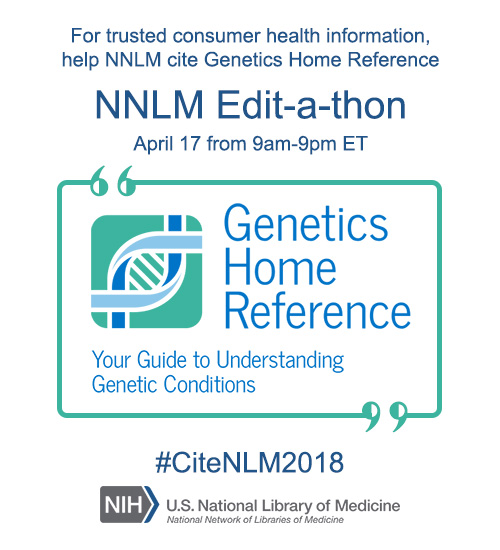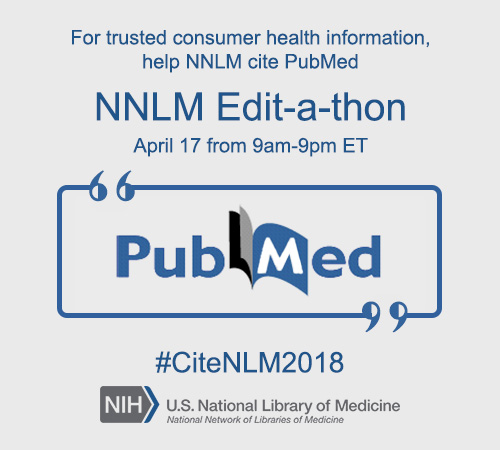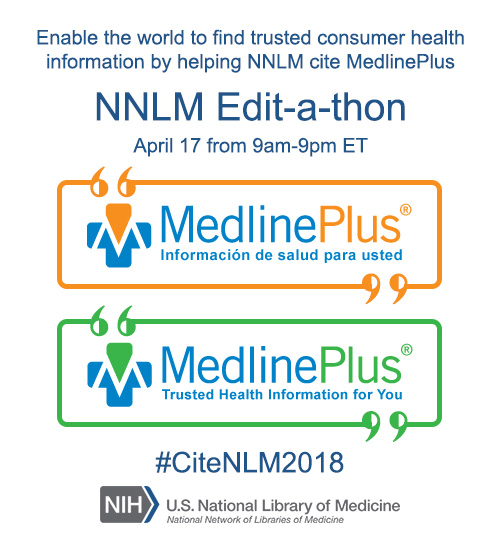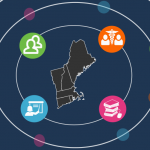 ABOUT NNLM Region 7
Network National of Libraries of Medicine, Region 7
Email author View all posts by NNLM Region 7