You're Invited: New England Graphic Medicine ComicCon
Posted by Sarah Levin-Lederer on February 15th, 2019 Posted in: Graphic Medicine, Trainings
Tags: community engagement, graphic medicine, Health Literacy, professional development, Training
---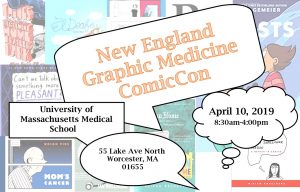 UPDATE: We're happy to announce that travel scholarships are now available for attendees from the New England region traveling more than 50 miles.  For more information or to apply, contact Sarah Levin-Lederer (sarah.levinlederer@umassmed.edu) or Martha Meacham (martha.meacham2@umassmed.edu).
Are you interested in using Graphic Medicine as a health outreach tool, but don't know where to start? Does your library have a Graphic Medicine collection, but you want ideas of how to expand and create outreach around these resources? Is your organization interested in creating Graphic Medicine to address a health need in your community?
NNLM-NER is excited to announce the New England Graphic Medicine ComicCon taking place at the University of Massachusetts Medical School (55 Lake Avenue North, Worcester, Massachusetts 01655) on Wednesday, April 10, 2019.
For librarians and information specialists of all kinds, health education and outreach professionals, creators and others working with graphic medicine, this event is designed to provide you with concrete strategies to incorporate and expand the use of graphic medicine in your libraries, community organizations, and general health education outreach efforts.
Finishing touches are being put on the schedule, but here's a preview:
Attendees will be encouraged to create comics during breaks and at lunch with supplies and support provided to help people learn by doing.  These comics can then be entered for a chance to win prizes.
Registration now open https://goo.gl/forms/jbUZNj27aqpzFhxM2.  Space is limited, so please register early.
For more announcements about the New England Graphic Medicine ComicCon, follow @nnlmner and #NEGraphicMedComicCon19.
If you have any questions, please contact Sarah Levin-Lederer at sarah.levinlederer@umassmed.edu or 508-856-5910
ABOUT Sarah Levin-Lederer
Email author View all posts by Sarah Levin-Lederer