NER Funded Grant – YWCA Women's Breast and Cervical Health Educational Outreach Program
Posted by Susan Halpin on November 4th, 2019 Posted in: Funded Project, NLM Resources, Patient Engagement, Public Health
Tags: breast cancer, breast cancer in black women, NER funded grant, WOC cancer support group, Woc-C, YWCA, YWCA of Central Mass
---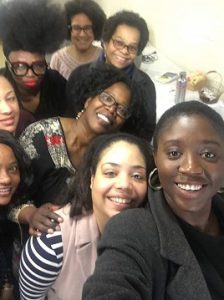 The following blog post was written by Alfee Westgroves. Alfee is the Women's Health Specialist overseeing the 2019 NNLM NER Community Engagement grant awarded to the YWCA of Central Massachusetts. 
We know that women of color may be most comfortable exclusively in each other's presence, particularly when confronting their own vulnerability. We also know that the pressures and stressors on women of color are impactful and unique, from those of white women. We further know that health disparities, namely that of breast cancer, include startling mortality rates. The NNLM made curated statistical information on health disparities easily accessible from the: CDC, NIH: National Cancer Institute, DHHS: Office of Minority Health…and all from one search engine.
The YWCA of Central MA, with support from the National Network of Libraries of Medicine- New England Region, will sponsor an on-going support group for women of color who have been diagnosed with reproductive cancers (i.e., breast, cervical, ovarian, uterine). WOC & the (Big) C, or "Woc-C", will strive to create safe space for women of color to share their stories, resources and support of each other. The group will meet for coffee and tea twice a month and is free and open to the community with pre-registration. There will also be a closed group chat for participants to utilize for immediate physical or emotional support needs. Woc-C will kick off before the end of the year.
To help reach the special population of black women in the community and build relationships, The YWCA of Central MA co-hosted a tea at summer's end for women who serve as ministers and first ladies of local black churches. NNLM sponsored educator and cancer survivor, Dr. Joyce McNickles, PhD., to present on the topic of black women's breast health and the importance of screening and early detection. We went to NNLM resources to easily find trusted and supporting fact sheets for tea attendees on topics such as, NIH's "Dense Breasts: Answers to Commonly Asked Questions"- a factor in black women's breast health. Connections such as these helped inform the developing WOC cancer support group, as well as help educate, raise awareness and strengthen our caring community.
In addition to the cancer support group for women of color, the YWCA of Central MA aims to enhance our current cancer support programming. A free workshop series will commence in December and continue into the spring to help educate survivors on developing and using available resources to support themselves and others during and after cancer. The first workshop, "Reclaiming your Optimal Health Naturally, during and after Cancer Treatment", is scheduled for December 2nd and will feature an acupuncturist/Chinese medicine practitioner. The NNLM as a resource will be highlighted with an interactive portion, where participants may use tablet stations to browse the libraries. The stations will promote supporting information on integrative/complementary/holistic medicine via MedlinePlus, to feed the newly acquired knowledge, curiosities and interest of workshop participants.
During Breast Cancer Awareness month, we jumped into fall with an interactive breast cancer presentation at Abby's House- shelter, housing and advocacy program for women in our community of Worcester, MA. At Abby's House, we were able to help women engage with the health information being presented, answer questions on the vital issue and share resources to empower them as their own best health advocates. As with all of our efforts, we aim to move toward better health outcomes, with earlier cancer detection and treatment as the key.

ABOUT Susan Halpin
Email author View all posts by Susan Halpin