Food Literacy at the Worcester Public Library Through Nutrition Education & Healthy Cooking Classes
Posted by Susan Halpin on July 1st, 2020 Posted in: Blog, Funded Project
Tags: culinary arts education, Food education, food literacy, funded grant project, healthy cooking classes, healthy living resources, nutrition education, Worcester Public Library, Worcester Senior Center
---
The following blog post was written by Dot Sachs, Public Services Librarian at the Worcester, Massachusetts Public Library. The Worcester Public Library is one of the NER's Year 5 funded grant awardees. 
The Worcester Public Library was awarded an Outreach grant in April 2020 from the NNLM/NER to provide patrons with tools to learn how to plan, manage, select and prepare healthy food through nutrition education and healthy cooking classes.
Over the past several years, WPL has offered free nutrition and healthy cooking classes to its patrons by partnering with a local certified nutritionist and local chefs.  The grant will allow the library to expand and develop new programming.
The library was able to continue to provide patrons these classes in a virtual environment during the COVID 19 quarantine.  Participants register online on the library's website, via social media sites, or by calling the library's information line during operational hours at 508-799-1655 option 3.  Classes are recorded and uploaded to the library's YouTube channel for later access.
WPL Nutrition & Healthy Cooking Virtual Classes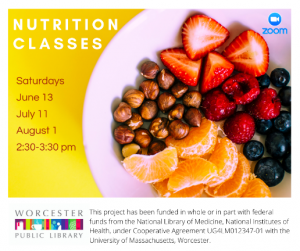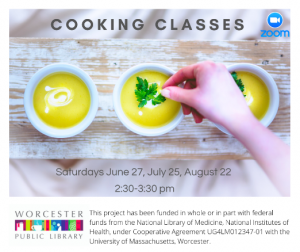 Classes this summer include:
July 11 – Nutrition Mythology
August 1- The Art of Vegetables
June 27 – Virtual Cooking Class with Chef Kim: Cooking Myths
July 25 – Virtual Cooking Class with Colin: Healthy and Amazing Sauces
August 22 – Virtual Cooking Class with Colin: Fiction in the Kitchen

Chef Kim Youkstetter, a culinary instructor at Worcester Technical High School has taught at WPL and other local libraries for several years.  Her classes have included:  Cheese Making, Pasta Making and Knife Skills.  In WPL's first virtual cooking class, she gave a glimpse of her own kitchen with a Zoom class on Pantry Cooking.  Chef Kim showed how to make the most of the ingredients already on hand and discussed food handling, food safety, and when you really need to let those leftovers go.  Below are the photos from class where she made stuffed peppers and two other recipes.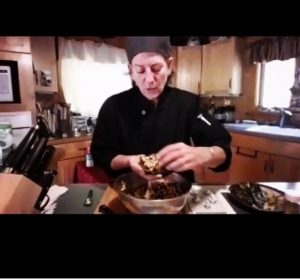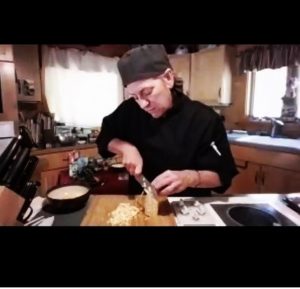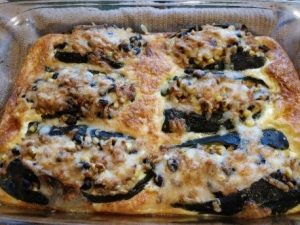 Below are some photos of her Pasta Making class.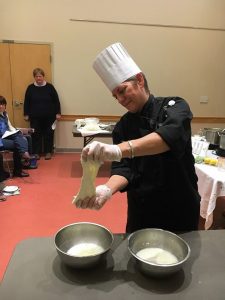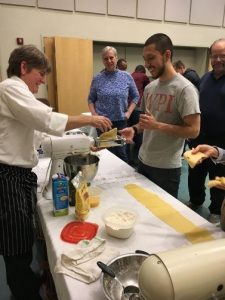 Registered Dietitian Judy Palken of @CrystalClearNutrition has taught several classes at WPL such as:  Great Whole Grains, How to Read Food Labels, Stress Eating, and recently held The Art of Fruit via Zoom.  Attendees learned how different types and colors of fruit can help lower the risk of getting certain cancers, and also help with brain and heart health. They learned that some favorite vegetables are really fruits, and shared tips and tricks on how to add more fruit into our day.  Judy adds a nice visual touch by incorporating images of artwork in her classes that represent the topic she is teaching.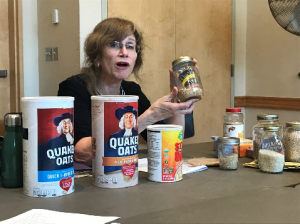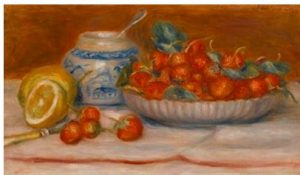 Colin McCullough, a well-known, local vegan cooking instructor and author of The Healthy Vegan, has taught at WPL for several years.  Some of his classes include:  Smoothies that Taste Like Dessert, Vegan Sushi, Healthy Amazing Sauces and Thai Curries from Scratch.  Below are some photos of his recent Smoothie and Sushi Making classes.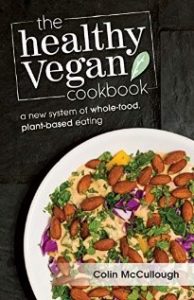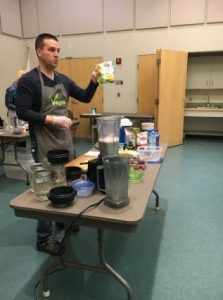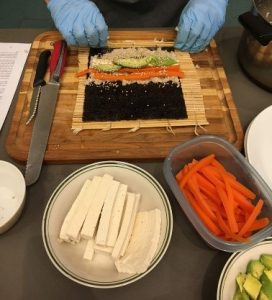 Due to the popularity of the healthy cooking classes, a Virtual Cookbook Club was added to the events calendar this year.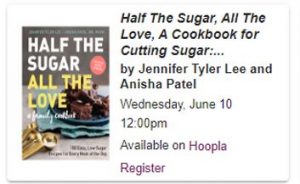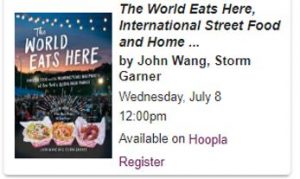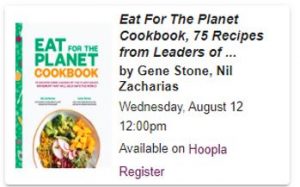 Author, Jessica Tyler Lee, joined WPL's first virtual cookbook club discussion which featured her book Half the Sugar, All the Love.   Jessica highlighted some of her favorite recipes and substitutions, shared her inspiration for the book, and answered questions.  Participants got a chance to share the recipes they cooked for the discussion.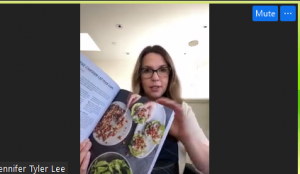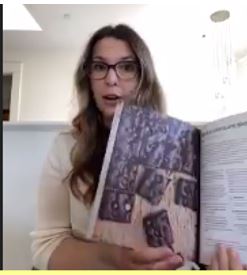 Worcester Public Library is partnering with the Worcester Senior Center for this grant in order to outreach to the city's senior residents.  WPL's Nutrition and Healthy Cooking classes and some other WPL events are included in the Worcester Senior Center Newsletter.  They also are sharing the library's  Nutrition and Healthy Cooking classes social media posts on their sites and will air recorded classes on the local government channel.
The Worcester Public Library also offers other nutrition & healthy cooking resources: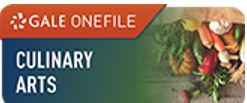 Gale Culinary Arts Collection  offers articles from more than 250 major cooking and nutrition magazines.

The Health & Wellness Resource Center, also from Gale, offers reference materials, journal and magazine articles, news, images and video about a variety of health and wellness topics.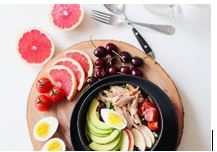 Food Literacy & Healthy Living this webpage was compiled by WPL librarians and lists COVID-19 free activities, resources and virtual classes. Some of these resources are free for a limited time.
WPL's Healthy Living Resources Blog
Topics include:  Nutrition and Healthy Cooking Resources from MedlinePlus, Nutrition & Cooking Classes, Healthy Benefits of Humor, Horticultural Therapy, Health Reference Resources

ABOUT Susan Halpin
Email author View all posts by Susan Halpin