Happy National Handwriting Day 2021!
Posted by Susan Halpin on February 5th, 2021 Posted in: Blog, Funded Project, Patient Engagement, Trainings
Tags: Improving handwriting, micrographia, Parkinson's Disease, The Art Cart
---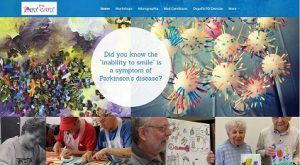 The following blog post was written by Saba Shahid, CSO (Chief Smiling Officer) of The Art Cart (https://smilethroughart.com/).
In 2018, The Art Cart was awarded a Community Engagement grant from the New England Region. The grant enabled The Art Cart to develop an online training program to address Micrographia, a condition commonly associated with Parkinson's disease that features small, cramped handwriting. The training program has since been published as a workbook "Let's Combat Micrographia, Edition 2."

January 23, 2021 was National Handwriting Day! Fun fact — observing National Handwriting Day actually dates back to 1977. Handwriting is an art, it is something that is very personable and gives people confidence in their abilities. Many people have traded pen and paper for a keyboard and screen. Handwriting is a task that many take for granted however, it is a task that people living with Parkinson's disease treasure.
Benefits of Handwriting
Stimulates the Brain:  Handwriting involves rich mind-body experience that helps stimulate the brain. When you are writing you are working on creating letters, joining those letters to other letters, then creating words, and ultimately forming sentences. This requires lots of brain power!
Develops Fine Motor Skills:  Handwriting exercises a complex cognitive process involving neuro-sensory experiences and fine motor skills. The ability to hold a tiny pen or pencil requires strength and coordination. Continuing to write as well as doing hand stretches will continue to help develop fine motor skill.
Develops Sensory Skills: By feeling the writing surface, holding the writing instrument, and directing precise movement with thought, your senses come to life and give your brain a full workout!
Increases Focus:  Writing increases focus because we are forced to slow down, think about forming letters into words, and then into sentences. Our brain is working extra hard to string all the pieces together.
Helps Improve Memory:  Handwriting may also improve a person's memory for new information as the act of writing requires more focus and allows you to visualize what is in front of you.
Encourages Creativity:  Writing can lead to journaling which can then lead to doodling and more. Anytime you use a writing instrument you're allowing your creative brain to come to life!
What Can Someone with Parkinson's Do TODAY to Start Improving Handwriting?
Frustration, lack of confidence in using a writing instrument, poor coordination between mind and body, as well as tremors are only some of the challenges that a person with Parkinson's disease faces. The good news is, that these challenges can be combated through diligent practice keeping in mind the goal of improving handwriting.
Since 2014, The Art Cart through their Let's Combat Micrographia® program has been devoted to people's success in improving handwriting. In 2018, our work was recognized by the United States National Institute of Health's, Network of the National Libraries of Medicine. Today, we are the only internationally recognized research-based program available to help people with Parkinson's improve their handwriting. The Art Cart would like to share a few no cost resources you can use to get started with improving your handwriting regardless of where you live in the world!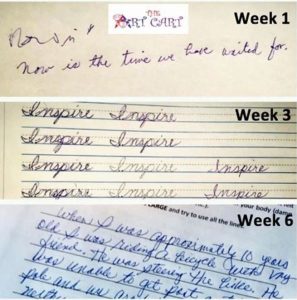 Our Resources for YOU:
Let's Combat Micrographia Introduction Workshops: Visit Let's Combat Micrographia Introduction to tell you more about our course. The introduction is free and can be accessed by  using the link https://letscombatmicrographia.thinkific.com/courses/let-s-combat-micrographia
Let's Combat Micrographia Live Workshops:  This is our live (delivered via Zoom) 7-week workshop series that people are able to join. These workshops are free and include materials. The next Live Workshop will be starting February 2021. Add yourself to the waitlist by completing this form: https://forms.gle/YDevQcRQy8wZAbyP7 or visit https://letscombatmicrographia.com/live-workshops
Let's Combat MicrographiaOrganization Sponsored Workshop Series: Typically, these series are sponsored in partnership with other organizations we work with. So, if you are leading a group of people with Parkinson's disease and would like to bring our programming to your community, please contact us at smilethroughart@gmail.com.

ABOUT Susan Halpin
Email author View all posts by Susan Halpin