Resources You Can Use: Low-Cost, No-Cost Preparedness
Posted by Sarah Levin-Lederer on September 20th, 2021 Posted in: Blog
Tags: Emergency Preparedness (EPP), resources
---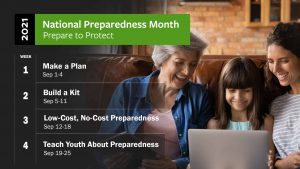 September is national preparedness month and the week three theme was "Low-Cost, No-Cost Preparedness." But what does that mean? What actions can we take to prepare for emergencies that are low or no cost?
Preparedness can feel daunting, but it isn't an all or nothing activity. Small actions can make a big difference during and after an emergency. Increasing knowledge about what to do during an emergency, creating and practicing personal emergency plans and getting involved with emergency response in your community are all ways that you can start preparing now at no cost. Learn more with the following resources.
Increase your emergency knowledge:
Make a plan:
Help your community prepare:
Become an emergency response volunteer:
September is National Preparedness Month, but preparing for an emergency is a year round activity. Find more resources curated by NNLM staff on the Emergency and Disaster Resource Guide.
And rember to follow trusted sources on social media to avoid scams and hoaxes and stay up-to-date during quickly changing emergencies.  On twitter, follow @nnlm_region7, @fema, @femaregion1 (New England), @femaregion2 (New York), @nws, local news outlets, and local and state government accounts.
ABOUT Sarah Levin-Lederer
Email author View all posts by Sarah Levin-Lederer