Join our #CiteNLM Wikipedia Edit-a-Thon – November 1-30, 2021
Posted by benniefinch on November 3rd, 2021 Posted in: Blog

---
Ever come across an article on Wikipedia and thought it could be stronger? Did you edit the page?
Why consider editing?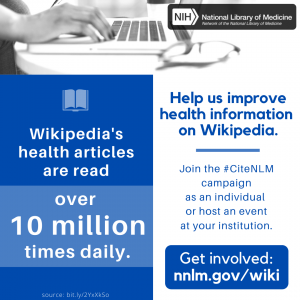 We know that Wikipedia is often one of the first sites that comes up in a browser search for information.
We know that patrons utilize Wikipedia when seeking information.
So, let's make it a stronger, better, more reliable source of information.
Twice a year, the NNLM hosts a #CiteNLM campaign to improve articles on a certain health topic.
For our campaigns, we review existing Wikipedia articles, checking for information accuracy and providing citations to current and trusted information resources. This way, when someone finds an article, they have the opportunity to follow the citation to a trusted source for more information.
We make this easy for you. Wikipedia offers training resources for basic editing and for editing medical topics and there are more training resources on the NNLM website Edit-a-Thon page.
The Fall 2021 #CiteNLM campaign period will run from November 1-30, 2021.
The Fall 2021 #CiteNLM topic is Preventative Health Care and Wellness
You can join our dashboard where articles needing work are identified for you.
Join the campaign and add some citations to trusted information resources such as MedlinePlus
Add the project hashtag #CiteNLM in the Wikipedia Edit Summary
Please join us to improve health information access on this widely used, crowdsourced platform!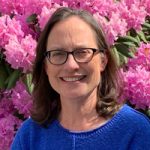 ABOUT benniefinch
Email author View all posts by benniefinch