Announcing a new chapter for the NN/LM South Central Region
Posted by Lisa Smith on May 2nd, 2016
---
The Gibson D. Lewis Health Science Library at the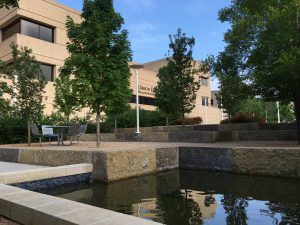 University of North Texas Health Science Center in Fort Worth, Texas is excited to begin serving as the Regional Medical Library (RML) for the NN/LM South Central Region! The University and the Library have a long standing history of community engagement that has created solutions for a healthier community throughout North Texas. The UNT Health Science Center (UNTHSC) is a leader in the provision of primary care and rural health. The University is also home to research institutes that coordinate research focusing upon cardiovascular and metabolic disease, mental sciences, eye research and healthy aging.
We are honored to serve as the host of the NN/LM SCR and are excited to build relationships with new partners in our five state region. We are currently recruiting to expand our RML team. Existing team members include Dan Burgard, Director, Lisa Smith, Executive Director, Myriam Martinez-Banuelos, Consumer Health Outreach Coordinator, and Carol Knisley, Senior Administrative Coordinator. Job announcements for our Health Professions Coordinator and Emerging Technology Coordinator have been posted on the UNTHSC jobsite.
We will be working closely with the National Library of Medicine to develop programs, funding opportunities
and services that will assist network members in increasing access to authoritative health information.
Contact us via email at nnlm-scr@unthsc.edu or phone at 817-735-2223 to discuss opportunities for partnering with the NN/LM SCR.
ABOUT Lisa Smith
Email author View all posts by Lisa Smith