Arkansas Mumps Outbreak Growing
Posted by nnlmscr on October 27th, 2016
---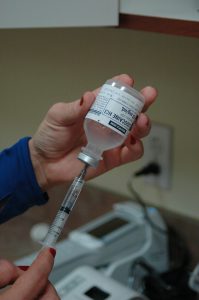 Northwest Arkansas has seen an increasing number of mumps cases in the last month. As of Oct. 12, there were 492 individuals involved. The majority of the individuals involved are children, and more than 30 schools in Arkansas have reported one ore more of these cases.
According to the Centers for Disease Control and Prevention, mumps is a very contagious disease best known for the puffy cheeks and swollen jaw that it causes. Other symptoms include fever, headache, muscle aches, tiredness and loss of appetite. Symptoms typically don't appear until more than two weeks after infection. Many people who contract the disease show few to no symptoms and often aren't even aware they have the disease. There is no treatment, but most people will recover completely within a few weeks.
The CDC recommends that everyone born after 1957 receive the mumps vaccine. Two doses of the MMR vaccine (vaccinating against mumps, measles and rubella) is 88 percent effective in preventing mumps. Adults born before 1957 are considered immune.
For more information regarding the Arkansas mumps outbreak, please visit the Arkansas Department of Health.
For more information regarding general mumps information, please visit the CDC's website.
Follow NN/LM SCR on Twitter and like us on Facebook.
ABOUT nnlmscr
Email author View all posts by nnlmscr