Arkansas Sees Flu Cases Rise
Posted by nnlmscr on February 21st, 2017 Tags: arkansas, flu 2016, flu vaccine
---
Flu Vaccination Grippe by Daniel Paquet is licensed under CC BY 2.0.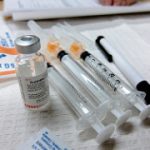 In the midst of flu season, the Arkansas Department of Health (ADH) has announced the flu has become "widespread" in the state, meaning the disease has been reported in all areas of the state. As of Feb. 17, 19 people had died from flu-related illnesses, 11 more than the 2015-2016 flu season.
ADH is urging those who have not already gotten this season's flu vaccine to get it–it is not too late. The vaccine is recommended for everyone 6 months of age and older, particularly those with higher risk for complications like young children or adults over the age of 65.
To find out where the closest location to get a flu vaccine is to you, please visit healthy.arkansas.gov.
To learn more about this season's flu, including what the current vaccine protects against and symptoms of the illness, please visit the U.S. Centers for Disease Control.
To learn more about the flu in Arkansas, please visit "Flu Cases on the Rise."
Like us on Facebook and follow us on Twitter.
ABOUT nnlmscr
Email author View all posts by nnlmscr