Healthy People 2020: A Systematic Approach to Health Improvement
Posted by nnlmscr on October 12th, 2016
---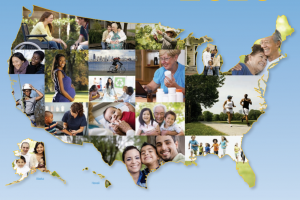 Curious about the status of health in the U.S. and what's being done to improve it? Check out Healthy People 2020, the latest national health promotion and disease prevention agenda released by the U.S. Department of Health and Human Services (HHS). The agenda includes a set of objectives to be reached by the year 2020, and was developed through a collaboration between HHS and other federal agencies, public stakeholders, and an advisory committee.
The Healthy People initiative began in 1979 with the surgeon general's report on health promotion and disease prevention. Following the report, the first Healthy People was developed with a list of leading health indicators and set targets for those indicators to be reached by the end of the decade. Healthy People 2020 is the fourth such report, with its vision to achieve a society in which all people live long, healthy lives, and was announced on December 2, 2010.
Healthy People 2020 contains 42 topic areas with more than 1,200 objectives. Within these objectives, a small set of high-priority health issues have been identified that represent a significant threat to the public's health. These 26 Leading Health Indicators (LHI) fall under 12 topic areas, and as of a March 2014 progress update over half (14) of the 26 indicators have either met their target or shown improvement.
The development of Healthy People involves an extensive stakeholder feedback process, incorporating periods of public comment throughout the planning process. The importance of the feedback process and public comments can be seen in the sample of new topics added to Healthy People 2020 based on feedback below.
Healthy People 2020 currently has a call for public comments regarding this year's proposed new HIV objective. This will be the final public comment period for the 2020 project, and will be open October 6-27.
Sample of new topic areas added to Healthy People 2020:
Adolescent Health
Blood Disorders and Blood Safety
Dementias, including Alzheimer's Disease
Early and Middle Childhood
Genomics
Global Health
Health-Related Quality of Life and Well-Being
Healthcare-Associated Infections
Lesbian, Gay, Bisexual and Transgender Health
Older Adults
Preparedness
Sleep Health
Social Determinants of Health
Follow NN/LM SCR on Twitter and like us on Facebook.
–Written by Sarah Miles, Health Professions Coordinator, NN/LM SCR
ABOUT nnlmscr
Email author View all posts by nnlmscr