ICYMI Webinar Recap: POP THE QUESTION
Posted by E. Bailey Sterling on July 24th, 2020
---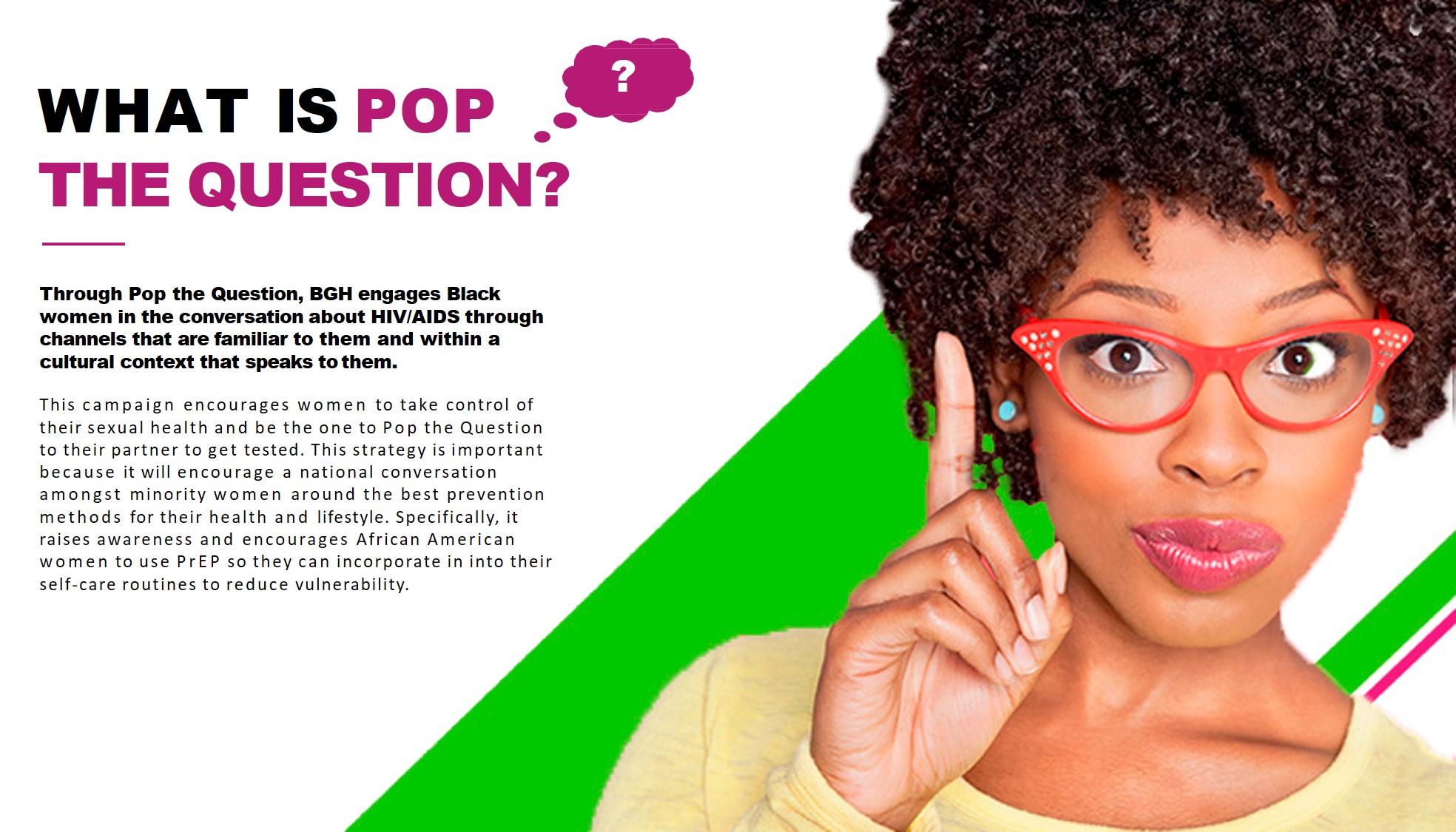 Were you unable to attend a recent live SCR CONNECTions session? Keep a lookout for ICYMI "In Case You Missed It" blog posts which provide a brief overview of SCR webinar sessions and links to related information. If you would like to access an archived version of this webinar and many more, please click here.
In case you missed it, our June 10, 2020 webinar was presented by Porcha Johnson, CEO and founder of Black Girl Health. Black Girl Health Foundation is a non-profit 501(c)(3) that creates pathways to improve health disparities and health literacy of black women and girls through education, engagement, and empowerment. She also serves on the NNLM HIV/AIDS Coordination Center (NACC) Advisory Board. In this presentation, Porcha discusses her foundation's POP THE QUESTION campaign, which raises awareness of HIV/AIDS among women of color. 
Porcha begins by describing the POP THE QUESTION campaign as an effort to encourage and empower women of color to take control of their own sexual health and bring up the subject (POP THE QUESTION) of HIV/AIDS testing with their sexual partners. This presentation focuses on sharing how Black Girl Health Foundation engaged their target demographic in order to elicit positive behavior and lifestyle changes. 
POP THE QUESTION employs several strategies to effectively reach and educate its target audience via social media:
A

Call to action landing page was built where people could learn how to POP THE QUESTION. This site also contains a survey designed to help increase user knowledge of HIV and PEP/PrEP using NLM resources.
Over the four years it has been an active campaign, POP THE QUESTION has produced 5 social videos (with their national influencer with the widest social reach), received over 400 completed surveys, and made approximately 6 million social media impressions.
POP THE QUESTION's successful campaign strategy identified its target audience, identified impactful partnerships, developed a catchy and lasting brand, and engaged before educating.
Are you interested in partnering with Black Girl Health to promote awareness about health issues affecting people of color? Email Porcha (address below) for more information.
This webinar is available to watch on YouTube.
Porcha Johnson
publisher@blackgirlhealth.com
In addition to this campaign, Black Girl Health Foundation also focuses on many other health issues affecting women of color, including diabetes, lupus, heart disease, and obesity. Check out the foundation's website to learn more about their mission and campaigns.
Please look out for ICYMI more blog posts for a recap of recent NNLM/SCR webinars.
Remember to follow us on Facebook and Twitter!
ABOUT E. Bailey Sterling
E. Bailey Sterling is a Digital Communications Specialist with the NNLM SCR and presently a graduate student pursuing an MS in Information Science specializing in Health Informatics from the University of North Texas (GMG!). She's also a Graduate Student Council Senator, Teaching Assistant, analog gamer, writer, and lifelong learner living in DFW. If you have anything you'd like to see featured on the NNLM SCR blog or social channels, please email Bailey.Sterling@unthsc.edu. We would love to hear more about what's happening at your library!
Email author View all posts by E. Bailey Sterling