January is National Glaucoma Awareness Month
Posted by nnlmscr on January 12th, 2017 Posted in: Consumer Health, Health Literacy, Resources

---
Untitled by Liam Welch is licensed under CC0.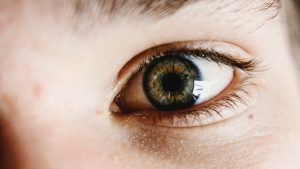 Did you know more than 3 million people in the U.S. are affected by glaucoma? Do you know what glaucoma is?
Glaucoma is a group of diseases that can damage the eye's optic nerve, the part of the eye that connects it's to the brain. When damaged, it can cause vision loss, and in fact, glaucoma is the leading cause of blindness in the United States, according to MedlinePlus.
Everyone is at risk for glaucoma, but there are certain groups of people who should be more aware of potentially contracting the disease—mainly seniors. Those over age 60 should get an eye exam every two years. Additionally, African Americans over age 40 and those with a family history of glaucoma should also get checked regularly, as they are more at risk.
Glaucoma symptoms vary, and those with the disease may experience none. But over time they may notice a loss of peripheral vision, tunnel vision, eye pain, nausea, blurred vision, halos around lights and/or reddening of eyes.
There is no cure for glaucoma, but it can usually be controlled, especially when caught early on. Current treatments include prescription eye drops and surgery.
This January, recognize National Glaucoma Awareness Month by considering getting an annual eye exam.
To read more about glaucoma, please visit "Glaucoma Resources for Special Populations from National Library of Medicine," and/or MedlinePlus.
Follow NN/LM SCR on Twitter and like us on Facebook.
ABOUT nnlmscr
Email author View all posts by nnlmscr