Hey, students! Check out the LIS Fall Development Award!
Posted by E. Bailey Sterling on September 4th, 2020
---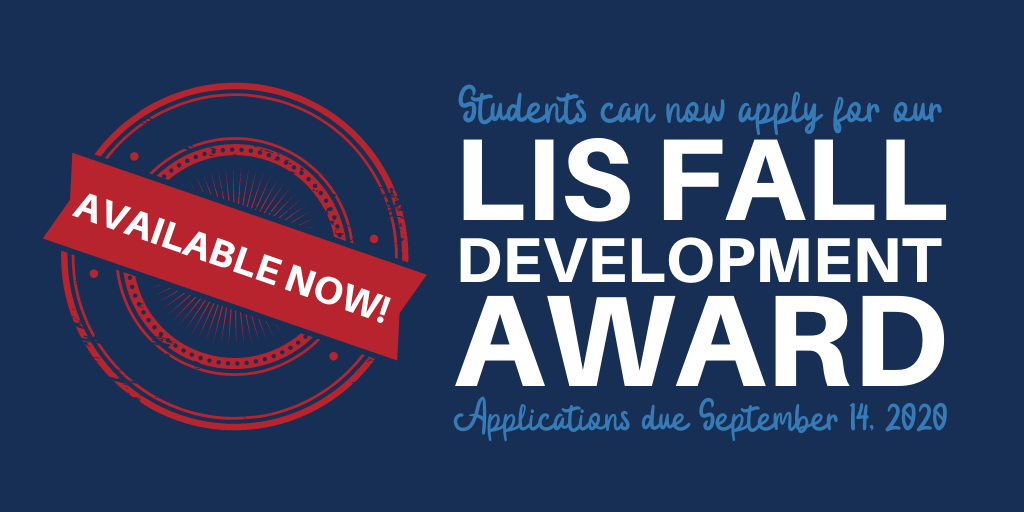 The SCC/MLA's Annual Meeting, originally set to occur in Houston, TX, has officially gone virtual! Don't worry, we plan to be back in Houston in 2021. This unique year has presented some unique opportunities to support our LIS community; students can join us at the 2020 SCC/MLA Annual Meeting (October 26-28) FREE OF CHARGE, but we are also offering an excellent funding opportunity that goes beyond what our Student Outreach Award typically offers.
The Network of the National Library of Medicine (NNLM) South Central Region (SCR) is seeking library and information science (LIS) students in Arkansas, Louisiana, New Mexica, Oklahoma, and Texas who are looking for an opportunity to network, learn new skills, and present in a professional setting while learning more about health sciences librarianship and outreach! Whether you're interested in health sciences librarianship, informatics, or public librarianship, this program will give you a competitive edge in your job search and future career. You'll get a chance to work with an SCR coordinator as well as a professional librarian. Additionally, we'll reimburse up to $500 for you to attend training or another virtual conference of your choosing as it relates to your interest in this program.
The goal of this program is to introduce the future LIS workforce to the health sciences, trusted National Library of Medicine (NLM) resources, and develop their professional skills. With coaching from a talented NNLM professional, each awardee will deliver a 15-minute presentation on an NLM resource or NNLM priority at the virtual South Central Chapter of the Medical Library Association (SCC/MLA) on October 26th, 2020.
Three (3) LIS Fall Development Awards are available, and applications are due September 14, 2020. Please visit the link below for more complete information on the award and how you can apply today!
If you have any questions, please contact Executive Director Brian Leaf (Brian.Leaf@unthsc.edu). Please share this post with the LIS students in your life!
For our professional colleagues, we are also currently accepting applications for the following awards:
Professional Development Award
Patricia Bradley Professional Development Award
Data Science Professional Development Award
As always, we look forward to reading your proposals and learning more about the plans, ideas, and vision you have to strengthen your communities! Thank you all for the hard work you continue to do. It's an honor to serve the NNLM South Central Region.
---
Like NNLM SCR on Facebook and follow us on Twitter.
ABOUT E. Bailey Sterling
E. Bailey Sterling is a Digital Communications Specialist with the NNLM SCR and presently a graduate student pursuing an MS in Information Science specializing in Health Informatics from the University of North Texas (GMG!). She's also a Graduate Student Council Senator, Teaching Assistant, analog gamer, writer, and lifelong learner living in DFW. If you have anything you'd like to see featured on the NNLM SCR blog or social channels, please email Bailey.Sterling@unthsc.edu. We would love to hear more about what's happening at your library!
Email author View all posts by E. Bailey Sterling