Louisiana Sees More Cases of West Nile Virus
Posted by nnlmscr on November 3rd, 2016
---
"Photo" by FotoshopTofs
is licensed under CC0.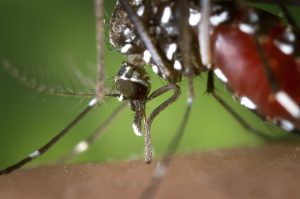 The Louisiana Department of Health reported this week that it has seen 36 cases of West Nile virus in Louisiana so far in 2016. Six more cases were reported within the last two weeks.
Of those diagnosed with West Nile virus, 15 were asymptomatic or fever cases, a mild illness. Twenty-one were neuroinvasive, a very severe case which can lead to brain damage and even death.
Like Zika virus, West Nile virus is a mosquito-transmitted disease. Many people (70 – 80 percent according to the Centers for Disease Control and Prevention) who contract the disease do not experience any symptoms. However, symptoms do include, fever, headache, body aches, joint aches, vomiting, diarrhea, rash, neck stiffness, tremors, seizure, paralysis, disorientation and coma.
Currently there is no vaccine or specific treatment for West Nile virus. The CDC recommends over-the-counter painkillers or hospitalization if symptoms are severe.
The primary way to prevent West Nile virus is to protect yourself from mosquitos. This can be done by using insect repellent and wearing long sleeves and pants.
For more information regarding West Nile virus in Louisiana, please visit the Louisiana Department of Health's website.
For more general information regarding West Nile virus, please visit the CDC's website.
Follow NN/LM SCR on Twitter and like us on Facebook.
ABOUT nnlmscr
Email author View all posts by nnlmscr